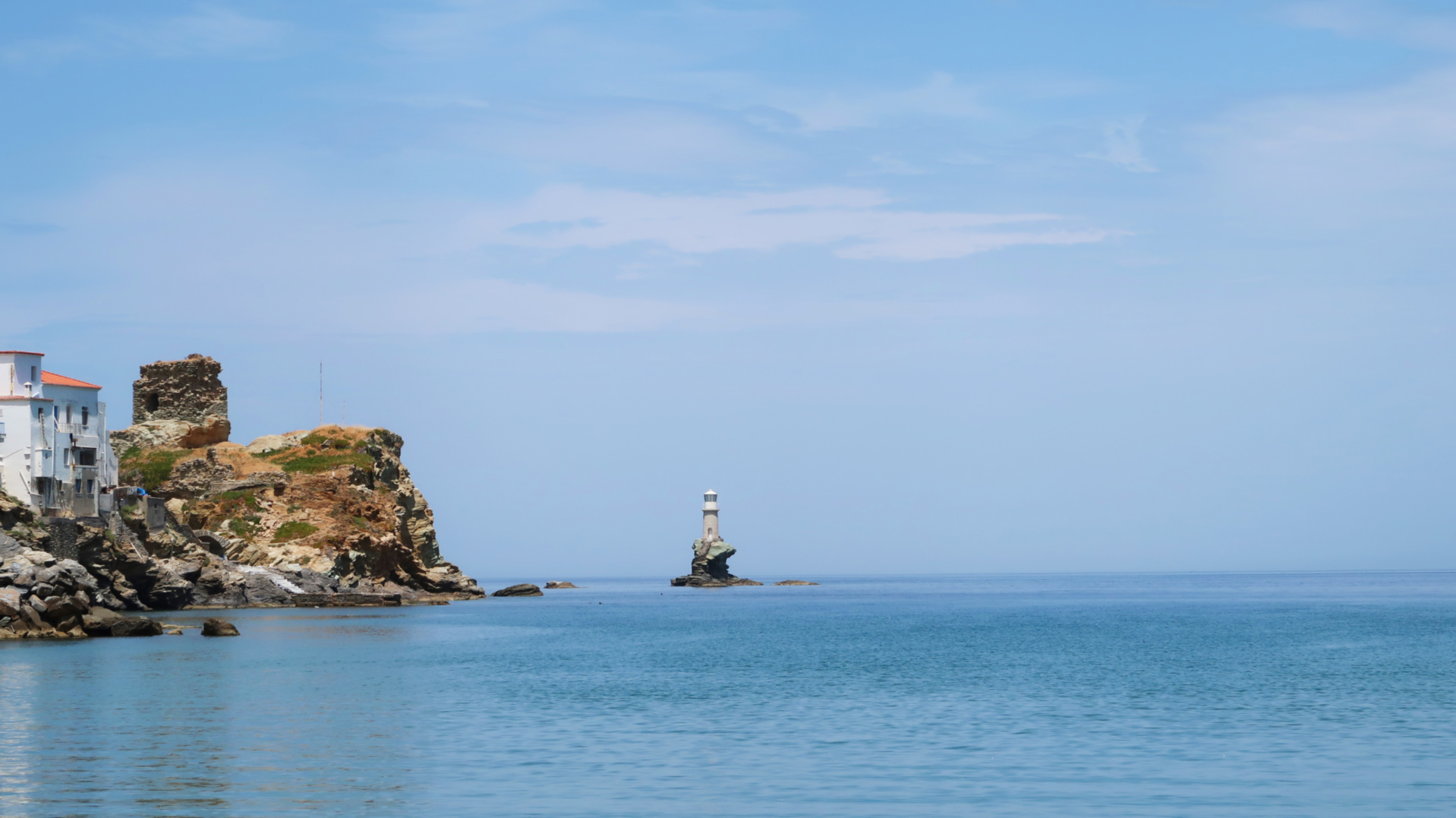 This post is number two in the series
Complete Guide to the Island of Andros
:
#2 Attractions on the Andros & culinary world | Andros
#3 Beaches & nature | Andros
Today, we want to focus on activities that stop you from getting bored on this island. We will tell you about museums and monuments worth visiting, beautiful villages, outdoor activities, sports, as well as some tasty restaurants on Andros.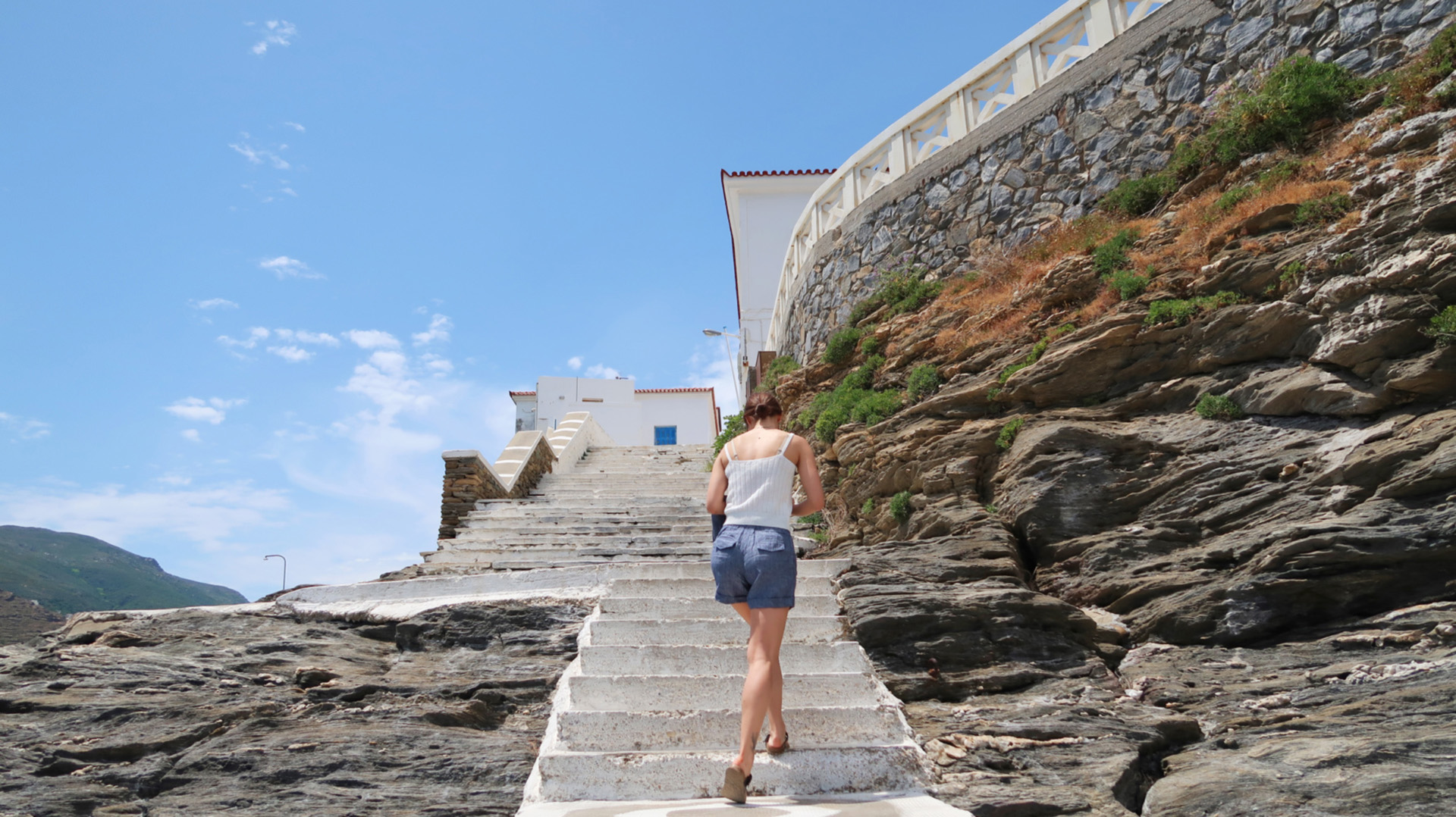 Villages
There is a great peace on Andros, and each village has its own unique atmosphere.

Batsi is a good starting point to the adventure on Andros. There are plenty of restaurants, cafes and even some bars or nightclubs. This is also where you will find various shops. One of them, run by a Greek lady, offers homemade products: sweets, jams, cheeses and liqueurs! You will find here a large sandy beach and a port for private boats.
Chora or Andros Town is the capital and the largest city on the island. Built on a narrow peninsula, it charms with fine architecture and beautiful views. There is no shortage of cafes and restaurants as well as excellent shops with local handicrafts, unique clothes and interesting jewellery. It is also the cultural centre of the island. Near the coast, you will find an unknown sailor's square with a sculpture, and a bridge leading to the ruins of the Venetian castle. From here there is also a great view of the lighthouse in the port of Nimborio, built on a tiny rock not far from the mainland.
Korthi is another town famous for its sandy beach, excellent restaurants and hospitality. It is worth going to the Heroon square and to the Folklore Museum. Do not forget about the beach "Tis grias to pidima", with a characteristic rock formation that grows like a tower from the sea.







Museums and monuments
Andros is an unusual island. At the first glance, it does not seem that the travel plan will be filled with such points as visiting museums or monuments. Nothing more misleading. Andros is rich in culture. You can visit several museums, churches and monasteries here, including:

The Andros Archaeological Museum, located in Chora, designed by the architect Stamos Papadakis, collects finds from the geometric period from Zagora and sculptures from different periods.
Archological museum Palaeopolis located on the road from Gavrio to Chora in the centre of the village Palaeopolis, with a collection of sculptures, coins and statuettes.
Museum of Modern Art in Chora, with a collection of sculptures by local artist Michael Tombros, as well as works by other Greek and international artists.
Olive oil Museum, located in one of the better-preserved oil factories in the Cyclades in the village of Ano Pitrofos. The owner of the place, who restored the building, guides the guests himself, explaining each stage of traditional olive oil production.
Panachrantos Monastery is one of the places that surprised us the most. We must admit that we came here by force, but our guide insisted that it was important to visit this place before leaving. And we must admit that it was worth it. It is not every day that you walk around the monastery built between years 963 and 969 and drink coffee with monks.






Outdoor activities
Apart from the fact that Andros is famous for its relaxing atmosphere, it is also known for its wide range of activities. You can choose from:

Trekking and hiking. Andros, unlike other Cycladic islands, is an ideal place for hiking, mainly due to the mountainous terrain, natural springs and unique nature. The non-profit organization Andros Routes for several years has been taking care of the maintenance and promotion of routes covering up to 300 km, differed in level of difficulty. We especially recommend going for a walk with Ariana from Trekking Andros, who has a great knowledge of the island and will make trekking not only a physical activity but also a fascinating experience.
Mountain bike. A great opportunity to see isolated beaches or mountain views.
Diving. The island is famous for its crystal clear waters, and shipwrecks that have created a home for many sea creatures. No wonder that diving in the Aegean Sea is very popular.
Windsurfing. Great climatic conditions make Andros an ideal island for learning or advanced windsurfing.
Off-road by 4×4 Jeep.
Cruises by boat.
Tai Chi and Yoga classes with Ariana from Trekking Andros.
Cooking lessons in harmony with tradition based on local organic products.
Horse rides.


Food
This topic deserves a separate paragraph. Together with Przemek, we are great foodies. We love delicious dishes, and trying the local cuisine for us is always an inseparable element of travelling. On Andros, it was a unique one. We have never eaten so many tasty dishes. Why is the food on Andros so delicious? Once again, probably because Andros is an exceptional island. The landscape and the presence of springs make the soil fertile, so growing plants is very easy here. I think that I will not make many mistakes when I say that about 85% of the products served in restaurants come from the local crops or home production. During our stay on the island we visited 4 unique restaurants, which we reviewed for you:






Experience with us!
Brought to you by: Julia & Przemyslaw