What do you associate with Crete? Will we guess if we write that with holidays, sun and beaches? And will you be surprised if you read that Crete is also a great winter destination?
We were. When in February we received an invitation to Crete from the Greek National Tourism Organization, we were slightly sceptical. Well, what can you do there in winter? It turns out that Crete, and in particular the area of ​​the Geopark Psiloritis is a place that offers a wide range of activities in the winter! And now we have been, we have experienced it for ourselves, and can tell you why should you visit the Cretan mountains throughout the year.
Geopark Psiloritis is a unique region recognized by UNESCO shortly after its founding and listed on the List of Global Geoparks. No wonder, because Psilorotis impresses with the diversity of landscapes, fauna and flora, monuments and activities! It's a great place for all kinds of sports, from trekking, climbing, cycling, kayaking, to… skiing! To make it more magical, you can ski down the slopes looking at the sea.
The Psiloritis massif covers an area of ​​over 1200 km2, and the highest peak – Ida, 2456 m high, along with other high mountain peaks is often covered with snow. According to Greek mythology, it was Mount Ida that was the refuge of Zeus at birth. His mother Rea hid him in a cave, fearing that his father, Kronos, would eat his child. Zeus was fed by a goat and raised by nymphs and burettes.
The rich traditions of Psiloritis mean that the Geopark abounds in cultural and mythological routes, as well as geo and ecotourism. Generally, it is a great place for any outdoor activities, because all the necessary infrastructure has been provided. And so you will find hiking trails, designated recreational places in the forest, campsites, as well as many other interesting places worth visiting. You can decide to use the services of companies specializing in geotourism, e.g. Cretan Adventures to go on guided trekking.
During trekking, it is worth paying attention to the rich flora and fauna along with numerous endemic species of plants and animals. There are over 100 species of endemic plants here, for example, Cretan orchid called "Lipitero".
What to do in the Geopark Psiloritis?
Enjoy outdoor activities. You can choose from hiking, trekking, mountain climbing, kayaking, cycling, horse riding, or skiing or snowboarding during the winter.
Climb to the highest peak of Psiloritis – the Mount Ida. Such activity definitely requires the necessary preparation – both physical and appropriate equipment. The best time will be the months from June to September, because later, as we wrote above, mountain peaks are covered with snow. Remember about warmer clothes, because at higher altitudes the temperature is much lower, even in the summer. Take a supply of snacks and water and be sure to inform someone about your planned route!
Visit the Shepherd's Shelter. There are several of them in the Geopark Psiloritis, but we definitely recommend Shepard's Shelter in Rethymnon. It is located at an altitude of 848 m above sea level on the slope of Mount Ida. In addition to lunch in a shepherd's shelter prepared according to tradition and using local products, you can also go for a walk around the area, take part in a workshop on making cheese, cooking, or try rakija distilled on-site. We wholeheartedly recommend this experience, as we have not felt so warmly welcomed in a long time.
Take a pottery workshop at the Keramion workshop in Margarites. In addition to the opportunity to experience working with clay, which is unique here because it remains red after burning, you will also learn pottery techniques dating back to the Neolithic era. Here you can also buy beautiful Cretan souvenirs, e.g. jugs, plates or other trinkets.
Warm-up in the Sfentoni Cave. This is the largest cave you can visit in Crete. What's very interesting is that the temperature of 18 degrees Celsius is constant here throughout the year. Its entire area is about 3000 m2, while tourists have access only to part of it – routes about 270 m. What will you see? Well preserved rock formations (stalactites, stalagmites and stagnates), water reservoirs, and if you're lucky, a bat. About 400 of them live in the cave, together with various species of invertebrates. Visiting the cave is only possible with a guide, and the cost of the ticket is EUR 4.
Visit the Museum of Wooden Sculptures in Axos. We were pleased to meet George Koutantos – a self-taught artist who has been perfecting in woodcarving for many years. His sculptures are of considerable size and always have an emotional connection with the artist and his life. George's works are often carved from a single piece of wood, and he obtains raw materials from various parts of Crete, mainly from dead trees. The cost of admission is EUR 5.
Learn the history of the Arkadi monastery. Located in the Geopark Psiloritis, the monastery is one of the most important monasteries, not only in Crete but also throughout Greece. The monastery became known internationally during the Cretan Revolution against Turks in 1866. It was then that it became a symbol of sacrifice, freedom and rebellion against the Turkish occupation. As a result of the attack, monks, as well as women and children decided to blow up the monastery, dying in an explosion but also killing many attacking soldiers.
Go for a wine tasting. We will probably find Greek wine lovers among many of you. And we are among them! Wine tasting at the local Kourkoulou Winery is a great way to learn more about the wine as well as grape varieties planted in the vineyard. We tasted 5 wines – 2 white, 2 rose and one red. One of the whites was so delicious that we brought two bottles home (the cost of one is about EUR 7).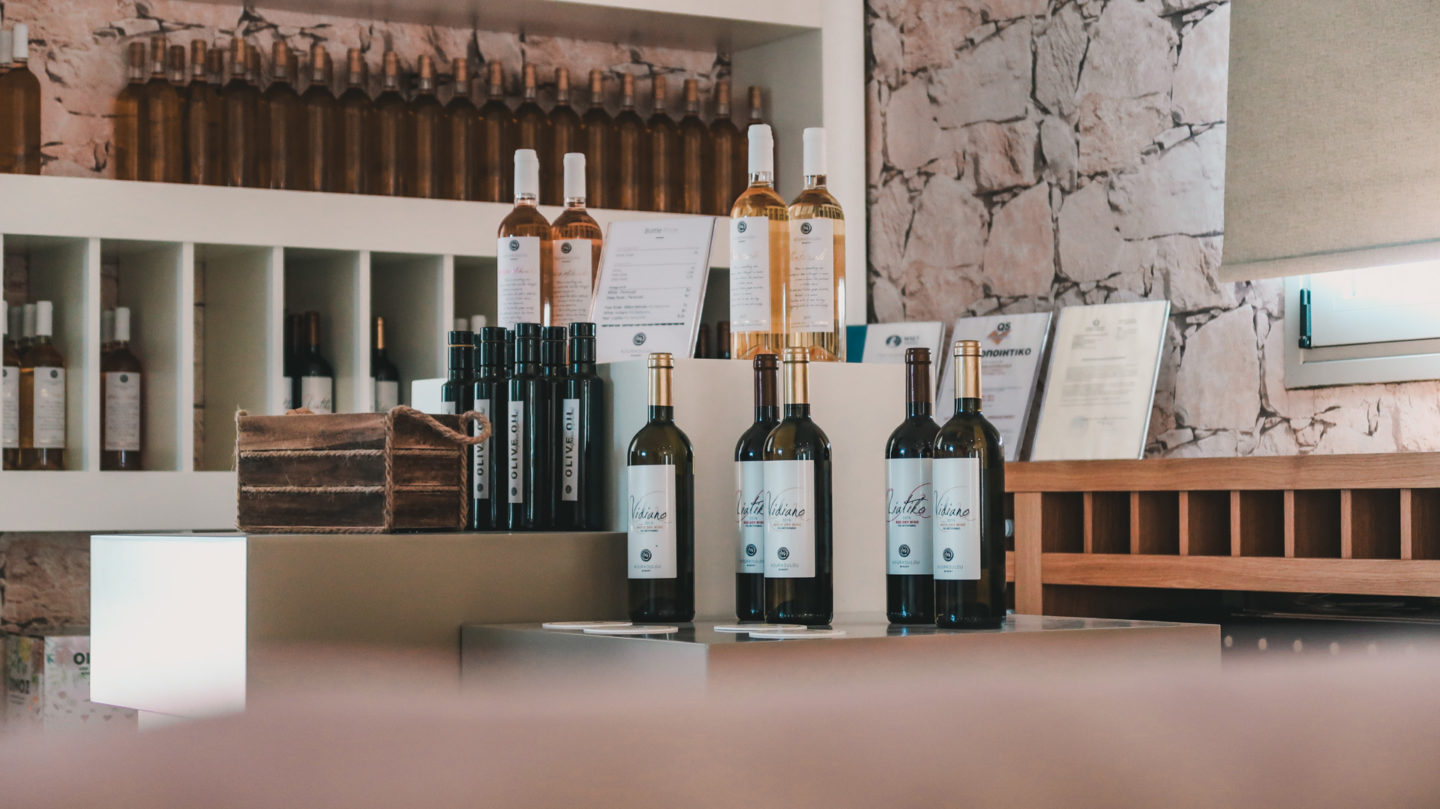 Go for a hike in the Patsos Gorge. As we have already written – the entire area of ​​the Geopark Psiloritis is ideal for hiking. But! Patsos Gorge deserves a separate section because it is extremely beautiful. Here you'll find a bird-watching spot, a picnic area and a water spring. In the summer, trees in the gorge create a wonderful shelter from the sun, and numerous endemic plants form a local, unique 'botanical garden'. The Patsos Gorge area is included in the Natura 2000 program.
Cretan cuisine – what do you have to try?
Crete is known for tradition and hospitality. This translates strongly into Cretan cuisine. Cretans living in mountainous regions, including the Geopark Psiloritis, have learned to draw from the goods of nature. Thus, they based their diet on olive oil, wine, honey, vegetables and aromatic herbs. Interestingly, many years of research by scientists prove that the Cretan diet is one of the healthiest in the world.
The inhabitants of Psiloritis also consume huge amounts of goat and sheep cheese. Mountain areas are an ideal environment for their breeding, which is favourable to the production of sheep/goat milk products. Therefore, the tables are dominated by both soft and hard kinds of cheese, the famous Greek yoghurts (also quite innovatively in various flavours, e.g. vanilla or chocolate or in the form of rice on milk with cinnamon) and of course dishes with cheese.
At this point, we should also mention the meat – also from sheep or goats. It is often baked or served in the various forms of sausages.
Returning to the cheese, here you will try an interesting version of savoury macaroni and cheese; cheese in salads (whether Greek with feta or grated with cabbage and dried fruit); as well as cheese-stuffed divine Cretan pastries (Kalitsounia) topped with honey.
Of course, there are also classics like dolma – stuffed cabbage rolls, as well as for us total novelties, such as rice cooked in broth, pea paste a la hummus, stale bread baked under tomatoes and cheese, obviously, or thin strips of deep-fried zucchini.
On the table also has to appear house wine and rakija – strong alcohol made from grape skins. For Cretans, rakija production is not just about the process, but more about celebration, a reason for gatherings with music and good food.
Where to sleep in Geopark Psiloritis?
Hotel Delina will be a great base for exploring the entire region. This is a four-star resort with a spa & wellness zone. In the rooms, you will find fireplaces and hydro massage bathtub or shower – long live the luxury! The property has a traditional cafe, where you can experience live music, a fireplace and local dishes. You will also find a church and a stable with a donkey and sheep.
If you prefer to rent an apartment, you can decide on such a charming place in Anogia. The rustic and spacious interior is ideal for cosy evenings after active days. Right next to the apartment is a restaurant where you can have breakfast or try traditional Cretan cuisine.
How to get here?
We highly recommend you rent a car – it is the best way to explore the entire area of ​​the Geopark Psiloritis. You will most likely end up in Heraklion, from where the journey to the park will take you about an hour. Also, you can get here from Chania in about two hours.
You can get to the Crete's airports by Ryanair, as well as Aegean and charters, depending on the season.
---
Watch our vlogs from Geopark Psiloritis:
---
Maybe you would also like to visit Athens and the fairy-tale islands of the Cyclades while in Greece? We invite you to read our other posts from this beautiful country.
---
Special thanks to the Greek National Tourism Organization and the authorities of Geopark Psiloritis for inviting us to this wonderful trip!
Experience with us!
Brought to you by: Julia & Przemyslaw