From the first day of our trip we experienced amusing adventures. After landing in Lamezia Terme we went straight to Hertz car rental service office. All similar offices are based in separate building located near main terminal.
Lady who was serving us was speaking amazing English and Przemyslaw couldn't restrain from complementing her. It turned out that she was from New York and has been living in Italy for few years. Barbara, that was her name, turned out to be a lovely and very helpful person. Instead of Fiat Panda she managed to rent us fiery red Ford Fiesta. Extremely italian red color combined with american production was ideal in this situation!
After getting to the car we immediately turned on the air conditioning because Przemyslaw was on borderline of fainting (he felt as if it was 60 degrees Celsius) and left for our first stop – town Pizzo. On our way there we were stopped by local police…

Find out more in our vlog:
Pizzo, which streets are impossibly narrow, kept us searching for parking space for quite a while. Basic car driving was hard enough not mentioning parking. 20 minutes later we found ourselves very lucky managing to find perfectly shaded parking spot.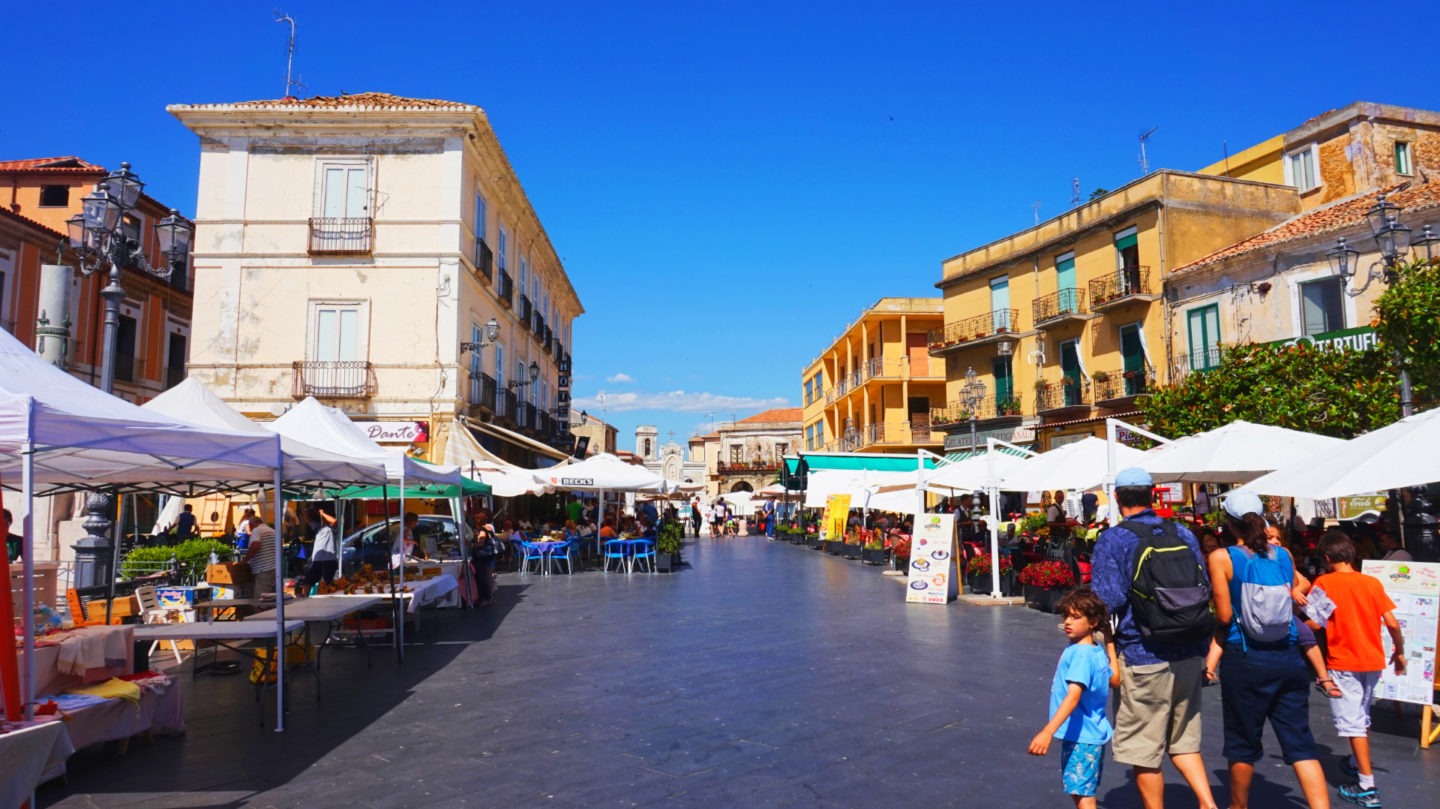 |Main square in Pizzo|
Pizzo is a little town with very italian atmosphere. Cute, pastel-painted houses, narrow lanes and steep stairs are true to italian architecture. Walking through city centre we got to the main square where you can try typical for Pizzo ice cream dessert – Tartufo di Pizzo. Original Tartufo you may find only here. Ice cream are formed into ball by hands, while masters of Tartufo place inside fruits, syrup or liquid chocolate.
Whole Tartufo di Pizzo invention story is quite amusing because it was just an accident. It was created by italian pastry maker named Don Pippo de Maria who was serving desserts on great wedding celebration. During the party he realized that they did not have enough cups to serve the guests ice cream. In the heat of the moment he formed ice cream ball filled with melted chocolate. Then he wrapped his creation with paper and put it into the freezer. Guests were served with innovative dessert with a surprise inside – melted chocolate. Don Pippo de Maria succeeded greatly and soon other pastries started to serve Tartufo. Until today every single one has its own highly guarded recipe. After that we went down and reached small, charming beach.
Obviously we couldn't help ourselves and dipped our feet into Tyrrhenian Sea.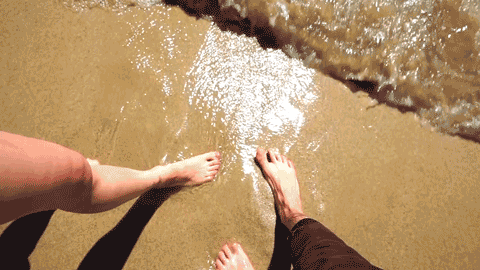 Main touristic attraction in Pizzo is castle built by Aragonese in the 15th century. The former King of Naples Joachim Murat, who was the brother-in-law of Napoleon, was imprisoned for several days in the town's Aragonese castle and then sentenced to death. He was executed by firing squad. Inside you can find wax figures of soldiers and prisoners. Cost of entrance – 2 euro.


After little bit of sightseeing we decided to head to our accommodation in Capo Vaticano. Villa Basilio turned out to be exactly like on booking.com pictures – cozy and very italian! Combination of great conditions and home atmosphere provided by our host Riccardo and we knew it was the best decision ever! Riccardo was so amazing that we spend with him much more time during vacation. We will write about this a bit later.
The most incredible part of our room was balcony out viewing the town and sea.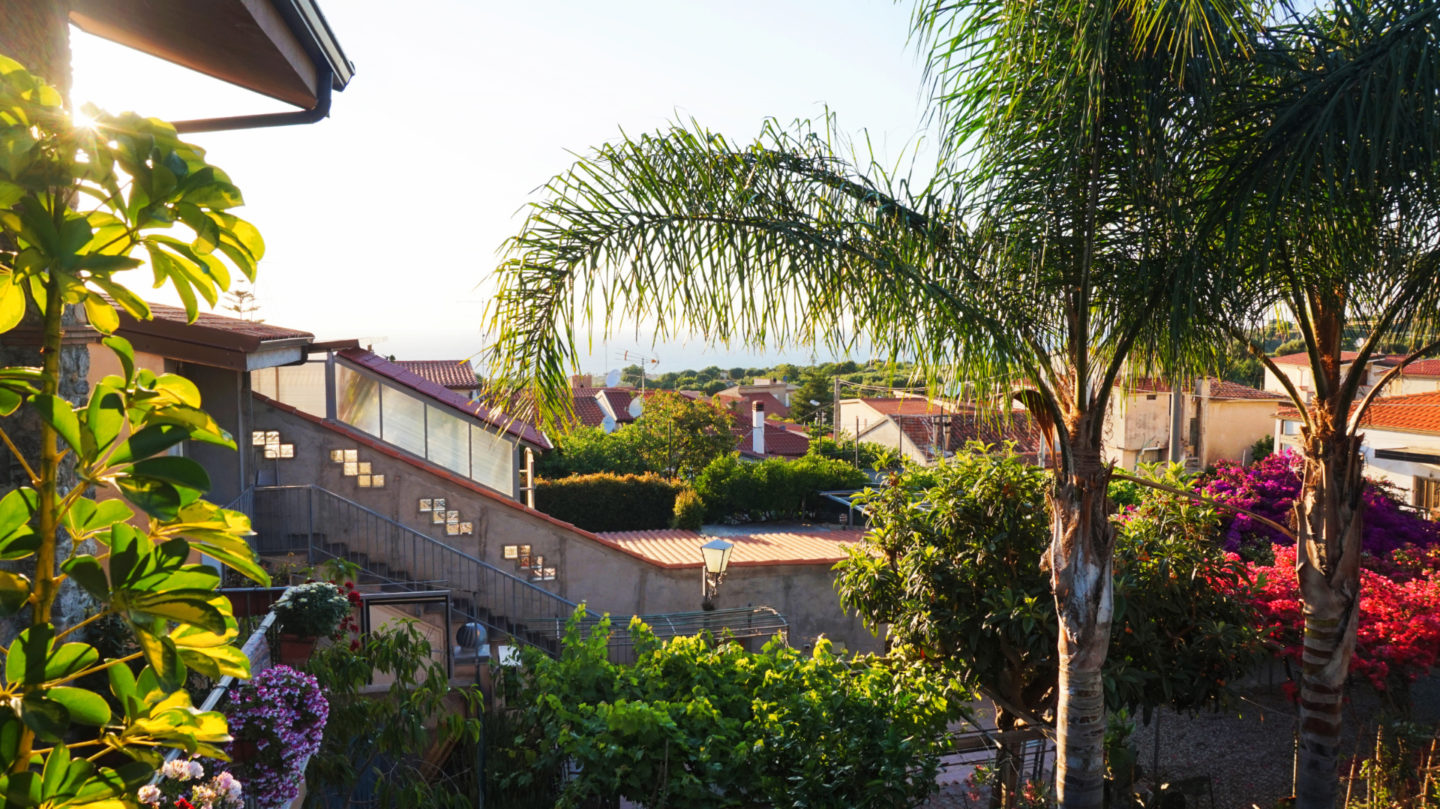 |View from our balcony|
That day we went for a walk during which we managed to capture fuming volcano
Stromboli volcano
. It is crucial to say that Aeolian Islands are most active seismically part of Europe and you can best see them right from Capo Vaticano.
Walking made us very hungry so we became searching for local ristorante. Driving the main road we saw restaurant
Happy Days
and in spear of the moment we decided to eat and relax there. Service was amazing and prices surprisingly good. In menu we found wide variety of traditional italian dishes. That evening we chose grilled swordfish with fries, grilled aubergine and gnocchi with tomato sauce.
We loved Happy Days so much that we came back there multiple times. We highly recommend it!


|Sword fish and grilled aubergine|
Experience with us!
Brought to you by: Julia & Przemyslaw