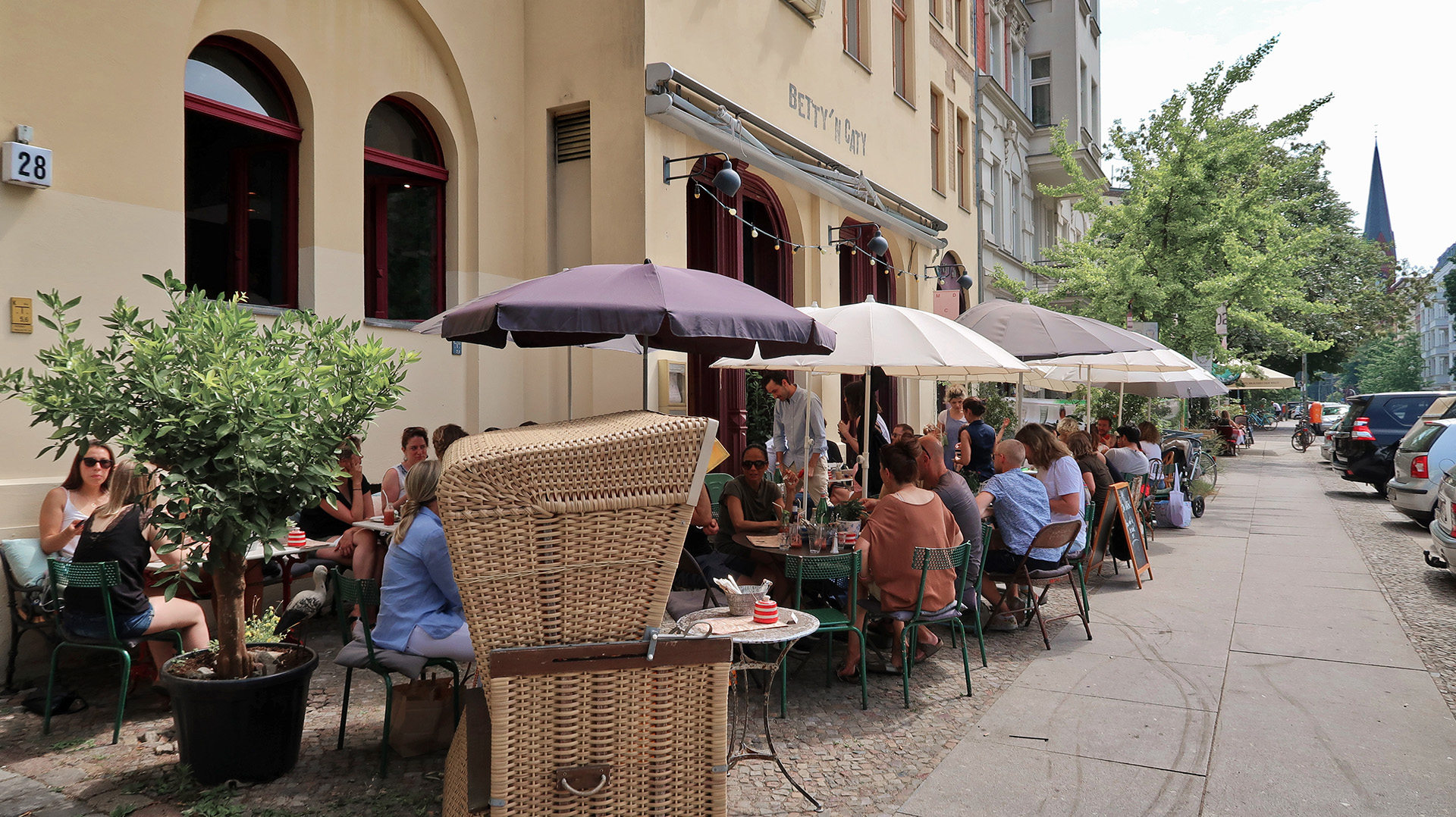 Do you know that the craze for more and more popular neighbourhood restaurants and cafes came to us from Berlin? In Lodz, for example, we have the popular chain 'Cafe przy ulicy'. And how is it in other cities? Do you have your favourite breakfast spots? Be sure to let me know in the comments!
Betty'n Caty is one of many popular restaurants of this type with fancy breakfasts in Berlin. Is it worth going there and how much will you pay for a decent breakfast?
How far from the city centre?
Betty'n Caty is located outside from the centre in a rather quiet area. The route from the Brandenburg Gate by car should take about 17 minutes depending on traffic. Quite close by there is Park of the Wall, where you can watch interesting graffiti, go for a walk, and during the weekend, do crazy shopping at the flea market (Flohmarkt im Mauerpark).
Will you get a table?
To be perfectly honest when going to Betty'n Caty, we had no idea what would the situation with the availability of tables be, and as it turned out later, we were quite lucky. At weekends this place is packed and everyone makes a reservation. We, however, went without preparation and surprisingly got a table. Although not outside but on the first floor and very cosy.
If you know that you will be going there on Saturday or Sunday, we advise you to call ahead and make a reservation.
Menu and value for money
Breakfasts at Betty'n Caty do not belong to the cheapest ones. Even less, if you take into account the ratio of portion sizes to price. You will pay EUR 7 for one scrambled egg and toast. When you feel like something more interesting, the price will be similar, for example, toast with avocado and poached egg – EUR 8, .
What else can you find on the menu?
Freshly squeezed juices and smoothies (small – 250 ml / large – 400 ml), i.e .:

• apple /orange /grapefruit /carrot /pear – 4.5/6.2 EUR
• super skin: orange, cucumber, ginger – 4.5/6.2 EUR
• super c: orange, carrot, grapefruit, ginger – 4.5/6.2 EUR
• morning after: celery, apple, cucumber, ginger, pineapple, coconut water – 4.9/6.5 EUR
• pink surprise: beetroot, carrots, strawberries, raspberries, coconut milk – 4.9/6.5 EUR
• detox: orange, beetroot, celery, ginger – 4.9/6.5 EUR
• good karma: banana, blueberries, cannabis seeds, coconut water, almond milk, cinnamon – 4.9/6.5 EUR
• morning mocca buzz: oatmeal, espresso, chocolate, coconut milk, maple syrup – 4.9/6.5 EUR
• super berry: avocado, fennel, pineapple, apple, almond milk, blueberries – 4.9/6.5 EUR
• green power: pineapple, spinach, avocado, lemon, ginger, coconut water – 4.9/6.5 EUR
• green breakfast: pineapple, spinach, oatmeal, banana, tomato, linseed, cucumber – 4.9/6.5 EUR
delicious coffee, e.g.:

• espresso – 2 EUR
• cappuccino – 2.9 EUR
• latte – 3.9 EUR
various teas – 3.9 EUR
muesli, e.g.:

• acai bowl with granola, blueberries, banana and yoghurt – 6/9 EUR
• muesli, yoghurt, raspberries – 6/9 EUR
variations on eggs, for example:

• boiled egg – 3 EUR
• fried egg with manchego cheese, tomatoes and toast – 7 EUR
• scambled eggs with ham/prosciutto/toamtoes /cheese – 8.5 / 9 / 8.5 / 8.5 EUR
and other dishes, e.g.:

• pancakes with banana, yoghurt and syrup – 6 EUR
Would we recommend this?
In the end, definitely yes. We always care about eating something healthy, nutritious and good quality. Betty'n Caty serves exactly that! If the portion for you is too small, we suggest a walk after to Flohmarkt im Mauerpark and testing, for example, a vegan kebab with seitan for just a few euros 🙂
Betty'n Caty
Food

Service

Decor

Location
Betty'n Caty
Good but not cheap breakfast spot.
Reviewed by: Julia & Przemyslaw