According to our host it was a necessity to visit three Halkidiki fingers. In the middle one – Sithonia you can find an incredible sandy beach with view on the majestic mount Athos located on the third finger named after the mountain.
What to see during a tour of Halkidiki?
We were prepared for departure, the only problem was that we did not have a car… In the first car rental in the town there were no cars left, in the second was supposed to be but.. the previous renter damaged it and didn't inform the owners. They were left with a car that looked ok but turned out to be totally broken. They really wanted to help us and this whole situation made them very sad. While talking to them we learned that they were immigrants from Azerbaijan, who are incredibly trusting and have huge belief in the people. They chose Greece for their home because they love the attitude and open minded people that live here. Even if something bad happens they are positive and believe in helping others.
We talked to them for quite a while and suddenly Misza said to his wife Julia: "Maybe we could rent them your car?". In that second we all looked at an old Peugeot 206. Scratched all around, dented, with no AC and no airbags. This could be quite tricky on one hand, on the other we didn't really have another choice. Very attractive was also the price – 70 EUR, considering that in Thessaloniki they told us 300-400 EUR for the cheapest model. And so we decided – we are ready for this adventure! And we highly recommend this car rental service – Dias in Nea Kalikratia.
Nikiti
This road trip turned out to be an excellent idea. Gorgeous bays and little towns show real face of Greece. Our first stop was beautiful Nikiti. We visited church in the newer part of the town.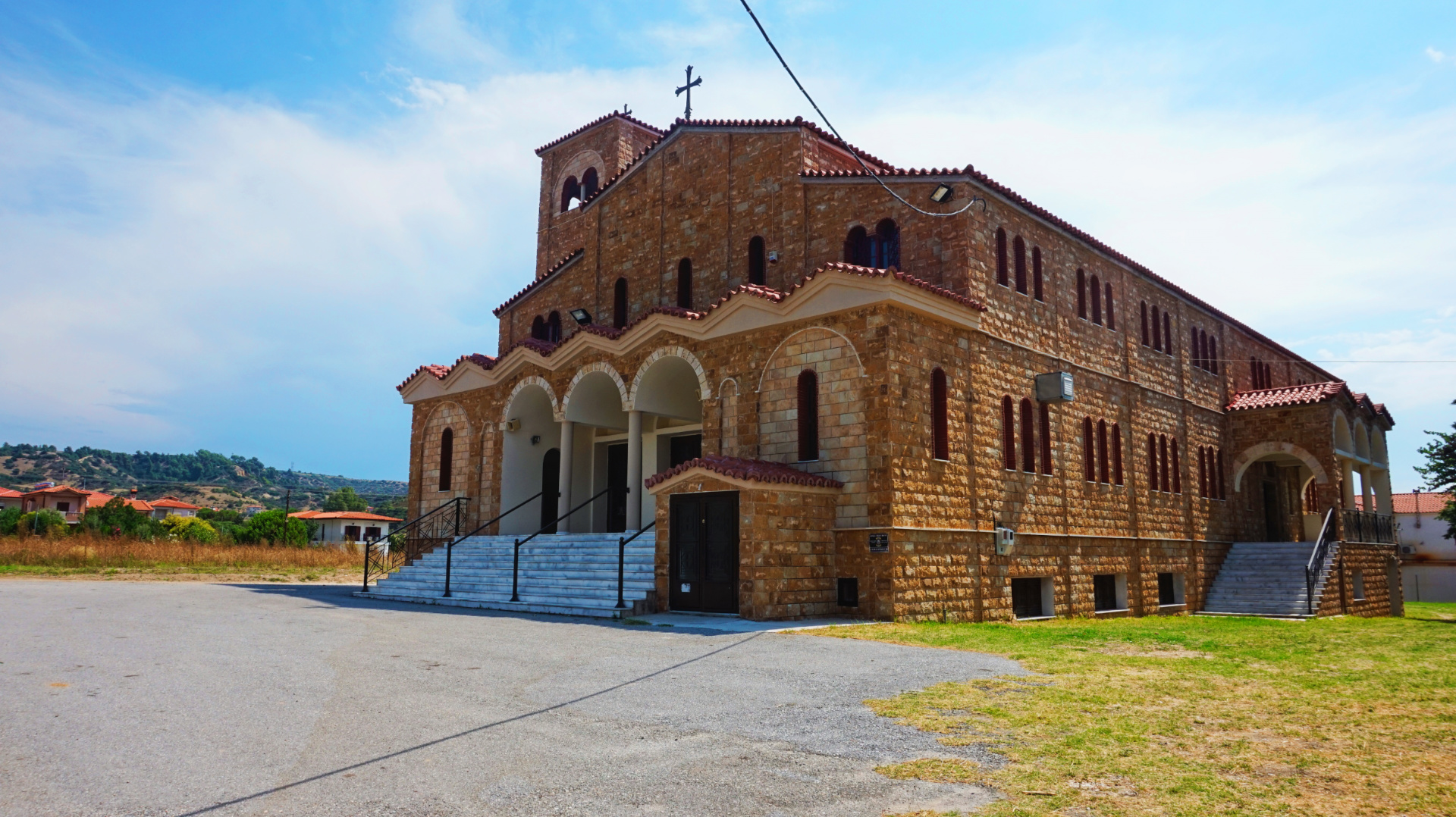 Then drove up toward the old town. The higher we drove the more amazing view appeared. The old village charms visitors with its superb Macedonian architecture and the houses are built of stone in a traditional way with its original colour. All those houses are spread around Agios Nikitas church.
Unfortunately we couldn't see it inside as this day it was closed. Luckily we could have experienced the amazing view of all the town.
Camping and beach Armenitis
From there we drove south to outstanding beach next to Armenitis camping. The beach by the camping is unique and can be reached by walking around its area. Admission to the beach is free. This sandy beach is immaculately clean and the sea has light turquoise colour. The waves are so intense here, even at the very edge, that before we knew it we were several meters from the beach.
Mount Athos
When standing on the beach at the horizon you can see majestic mount Athos or otherwise Agios Oros. It lies on the northernmost "finger" of the Halkidiki – Athos Peninsula. The mount, often covered with snow however, lies in an area inaccessible to tourists. This place is managed by Orthodox monks who live there, creating their own autonomous Theocratic Republic, to which only a few have access. This whole place with amazing nature and architecture has been inscribed on the UNESCO list.
Sithonia
After a quick bath, we set off on a path that soon was crossed by a herd of goats. A very large herd (several dozen pieces), guarded by shepherd dogs, went in an organized way to the other side of the road. The view is definitely wonderful and characteristic for Sithonia. Sithonia, the middle finger of the peninsula has an amazing and still quite pristine vibes. Tourist villages are less crowded and quieter than for example on Kassandra. There is no better way to explore the peninsula than by car (which is why we highly recommend you renting it, e.g. in Nea Kalikratia). In that way you will experience great views and might even get lost in small towns, i.e. the main Neos Marmaras, Parthenonas or the charming Torone. By car you will get to the mentioned Armenitis campsite.
We drove around whole Sithonia and started to get really hungry. We found very interesting spot on TripAdvisor but due to technical issues and lack of GPS connection we didn't make it there. In the end we decided to stop in the first closest town – Metamorfosi and chose Tarvena Vasilis as our dinner spot. This was a bad idea… We definitely don't recommend this place! Check out our negative review here: Taverna Vasilis.
Kassandra
First finger – Kassandra is a rather party area. There are plenty of beach bars and discos here. It's rather not our vibes, but if you feel like clubbing, you won't be disappointed. The area of party towns stretches from Nea Potidea somewhere up to 2/3 of its length, and the most fashionable seems to be Kalithea. Loutra is a bit calmer, maybe thanks to the spa resort. If you wish to relax in a town with an atmosphere, Afitos is beautifully situated, hanging over a 50-meter cliff.
Brought to you by: Julia & Przemyslaw