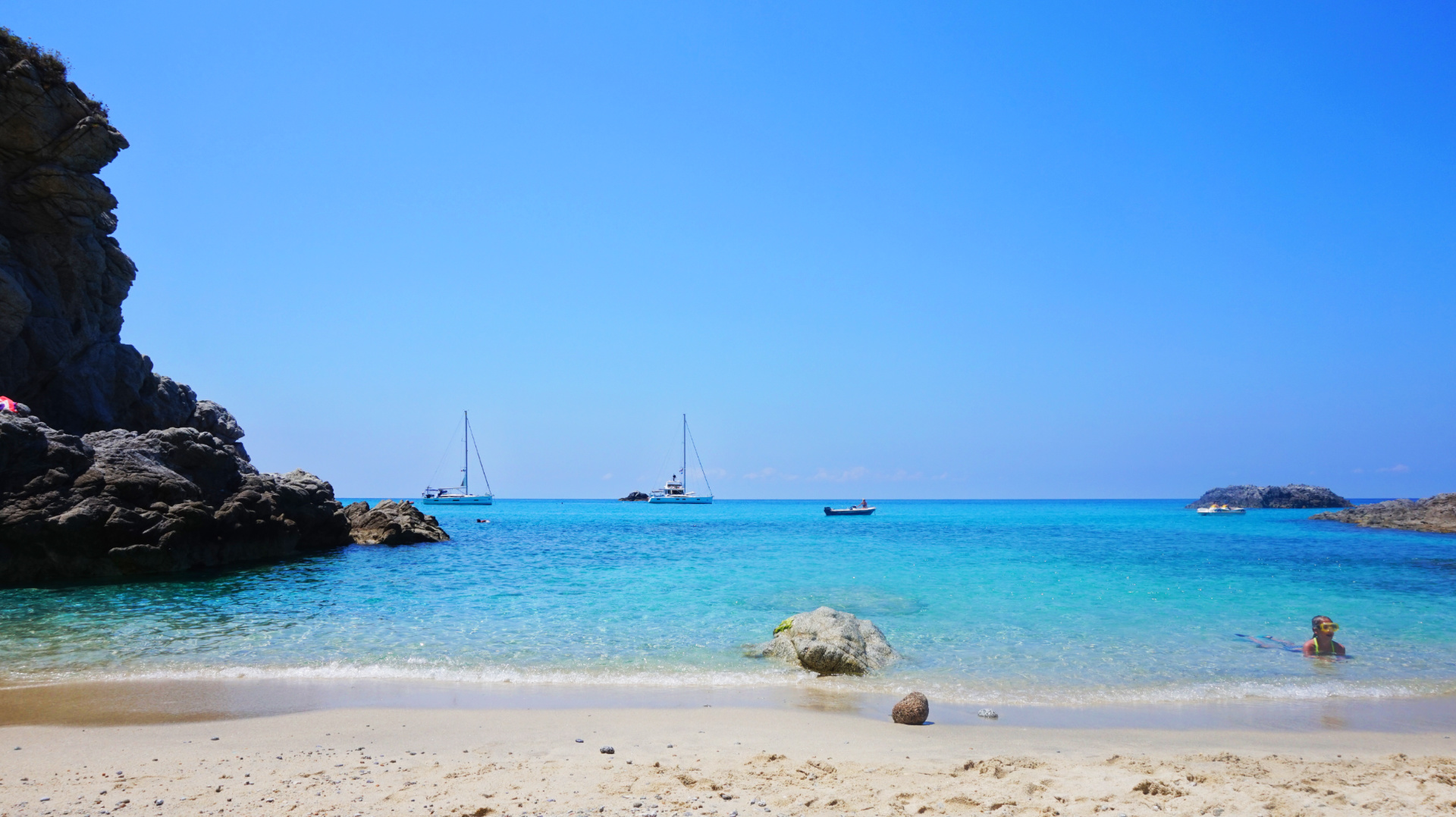 Our host Riccardo told us in secret about a magical beach near Capo Vaticano. You can get there only in three ways – by boat, climbing the cliff or getting access to private steps. We didn't want to push our luck and go through another fence 🙂 Julia feels quite sentimental about rock climbing so we decided to climb the cliff. Riccardo warned us it could be a bit dangerous and advised to take more solid shoes but we didn't want to carry them and we took only, camera and flip flops.
First we had to walk for 15 minutes along the beach. When we got to the end of the beach and reach the cliff we figured the easiest way would be to walk around the cliff. After couple of steps it turned out to be way deeper than we thought. So deep we should swim. And we would do so if it wasn't for the backpack and all the electronics in it. What could we do? The only solution was to start climbing the cliff.
After climbing first meters we decided to climb barefoot. As flip flops were sliding of our feet it became very dangerous. First few minutes rough rocks were bearable. Unfortunately every other minute it was getting worst. Rocks begun to burn and we were not laughing anymore. Skin on our feet was irritated and first blisters appeared. We didn't give up though and carried on.
It was absolutely worth it! Cameral, small beach that appeared after our journey was incredibly beautiful. It was as breathtaking as you sometimes see in movies. We spend all the afternoon there taking in the sea scent, peaceful atmosphere and charming views. We ate some melon and drunk the Corona. We didn't want to came back at all.
Finally we decided to pack our things and head home. We were totally relaxed and didn't know what was coming. Only after walking on rocks for couple of minutes we were feed up with whole experience. Rocks were extremely hot and our tired feet hurt a lot. At some point coming back we met two italians who couldn't believe we were climbing barefoot! One hour later with tears coming down our cheeks we reached end of the trail. This most likely is one of the most endurance requiring thing we have ever done! We went straight to nearest beach bar and sat there for hours eating ice cream and drinking Martini, obviously 🙂
See our climbing experience in the vlog:
Experience with us!
Brought to you by: Julia & Przemyslaw