We do not know about you, but we have never considered Romania as the top place for a city break or a few-week tour around the country. We are very embarrassed to admit that we did not have a particularly positive opinion about this country. We associated it with poverty, small development, Gypsies and, in general, we saw it as a not very attractive country to visit. But you know what? The nicest thing that can happen is to go somewhere with low expectations and be positively surprised!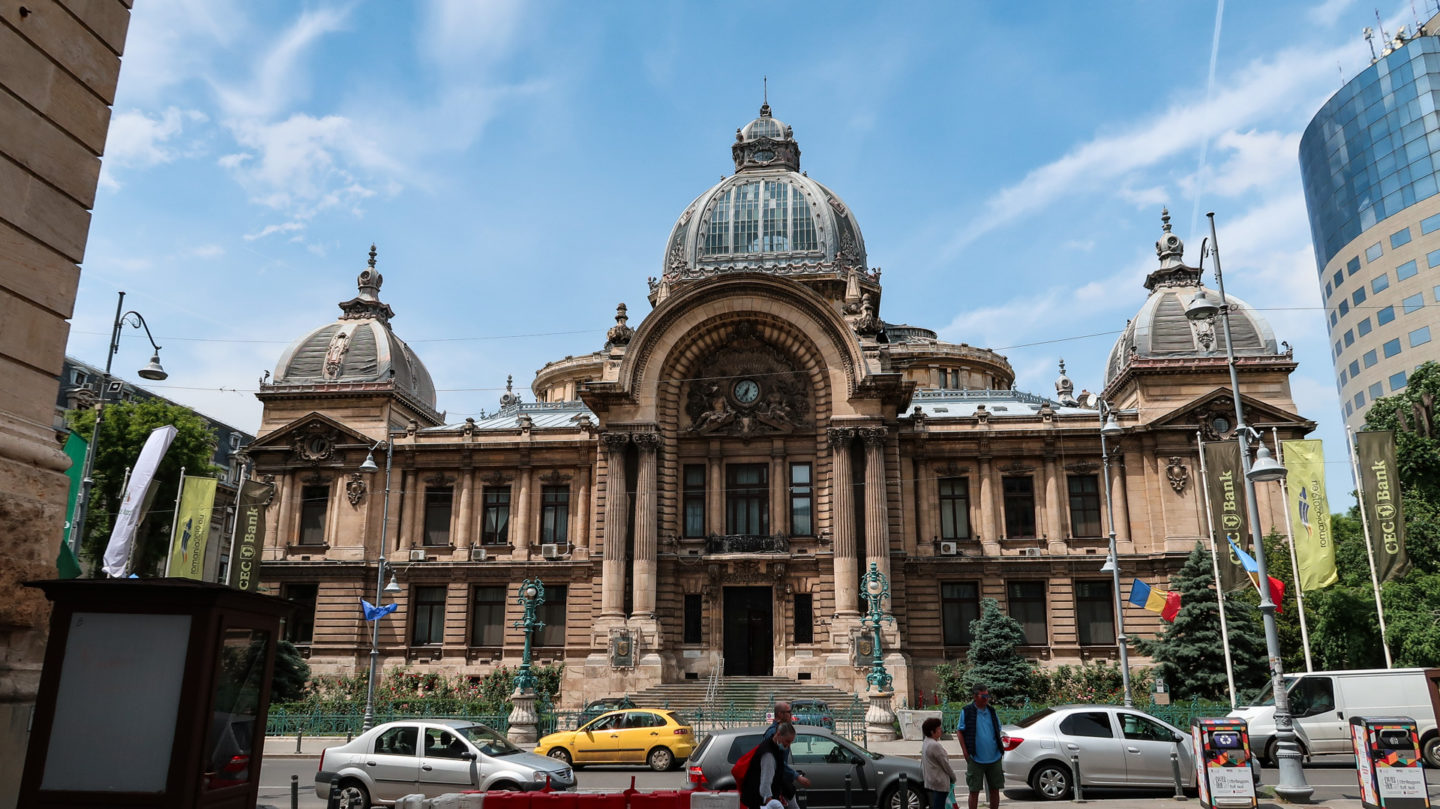 Romania is a country with similar recent history to Poland. It is one of the poorer countries of the former Eastern bloc and as each of these countries has a difficult past. Poland has made a huge step forward in recent years, Romania is also moving in the right direction, but unfortunately much slower.
Not without significance is the party that took over power after the overthrow of the cruellest Romanian dictator Nicolae Ceausescu. It was supposed to be liberating but it turned out to be neo-communist and, rather, stopping Romania from gaining momentum in development. In our opinion, Romania is a nation that is very aware of its past and tries to change its perception on the international arena. During our stay, we've met a lot of positive, helpful people, communicating in English without a problem!
Also, Bucharest has positively surprised us because it hides many gems and interesting attractions. Coming here, however, you should remember about some important matters, that we will talk about in this post.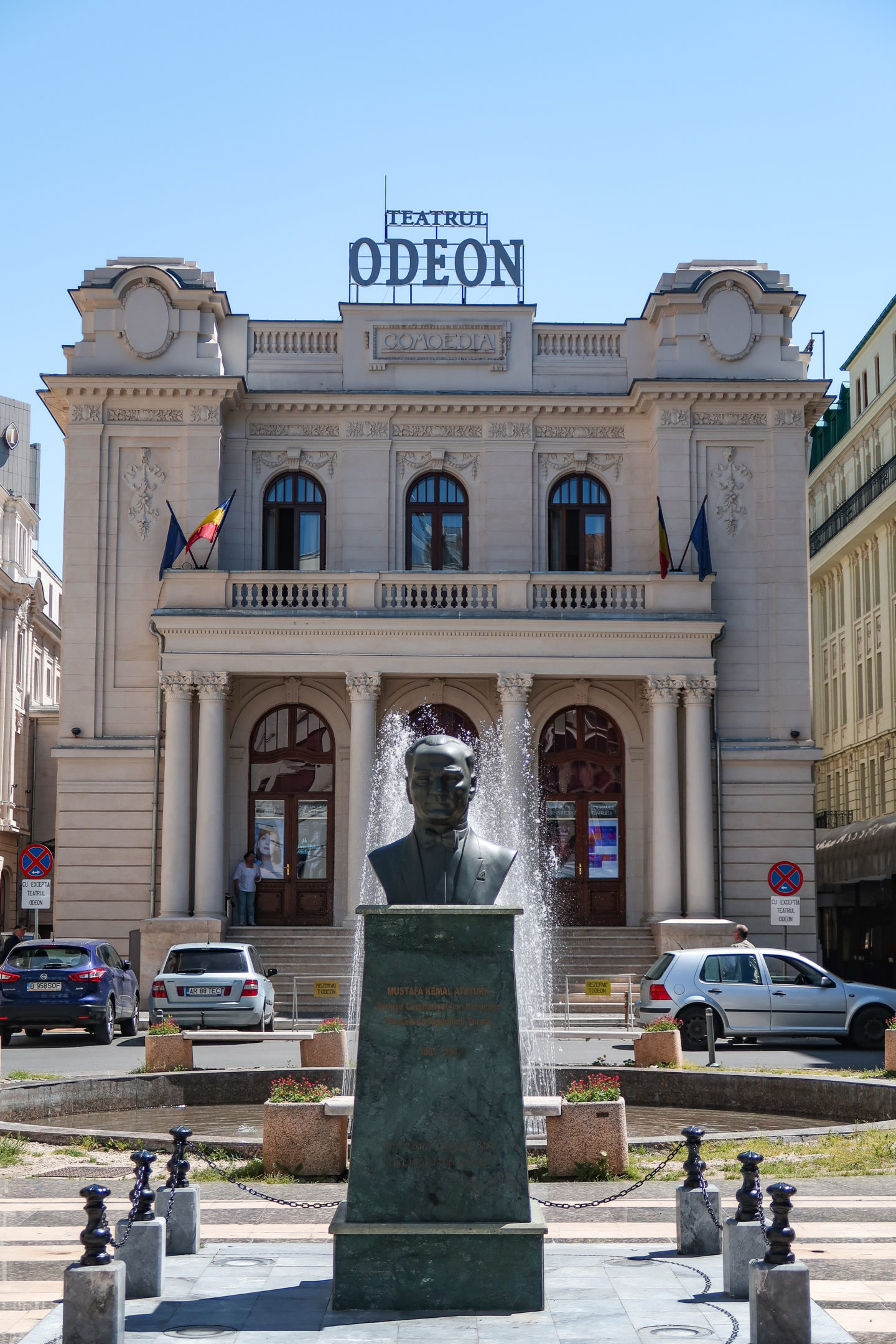 Organizational info
Currency
The currency valid in Romania is the Romanian (RON) leu. The current conversion rate is EUR 0.21 for leu 1. Romanian banknotes are decorated with images of outstanding historical figures associated with the state and, interestingly, are polymeric! The great thing is that in most places you can easily pay by card.
Flights to Bucharest
You can easily get to Bucharest with Ryanair or Wizzair for around EUR 60, both ways. An interesting idea is also a trip to Romania by car and crossing the picturesque Carpathian Mountains by the Transfagaras Route.
Transport to the city / to the airport
You can get to the city/airport by bus (numbers 780, 782, 783 and 784, depending on the starting point/destination) for RON 3.5 one way. The cost of getting a taxi is about EUR 10. It takes 30-40 minutes depending on the traffic.
Accommodations
As always, we recommend you Airbnb. In Bucharest, you can find apartments for every budget and in different locations. We chose the apartment near the People's Palace, which was a great base for exploring the city.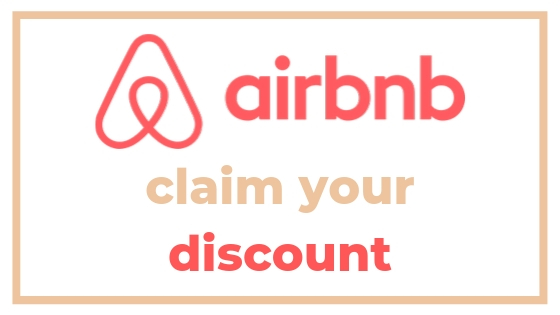 Moving around the city
Bucharest is notorious for very heavy traffic. Public transport, even quite well developed, is not often chosen by residents, which ends with a disaster on the streets. The worst is between 7-10 am and 3-6 pm. During these hours, you should not be surprised to see the police officers who moderate with intense traffic.
A great way to smoothly move around the centre is an electric scooter sharing service. Blinkee.city, already well known in Poland, has introduced its scooters to the streets of Bucharest from this season, and we had a great opportunity to drive them around the city. Not only the traffic did not concern us, but we also have never had a problem with parking. Incredible! Check if blinkee.city is in your city 🙂
The most important attractions
Bucharest is called Little Paris because many buildings were inspired by the capital of France. However, when moving around the city streets, we had the impression that we were in a city combined from many. On the one hand, very French architecture, on the other, purely communist buildings. You can also see a lot of Ottoman influences. Bucharest is a city of contrasts.
Old Town
Quite a small and neglected Old Town is visited mainly by tourists. During the communist period, poor inhabitants of villages and workers (the workforce needed by Nicolae Ceausescu) were resettled here. They did not have the means to maintain or renovate buildings, which gradually deteriorated. Currently, the renovation program is underway, but due to budget shortages, it is quite slow.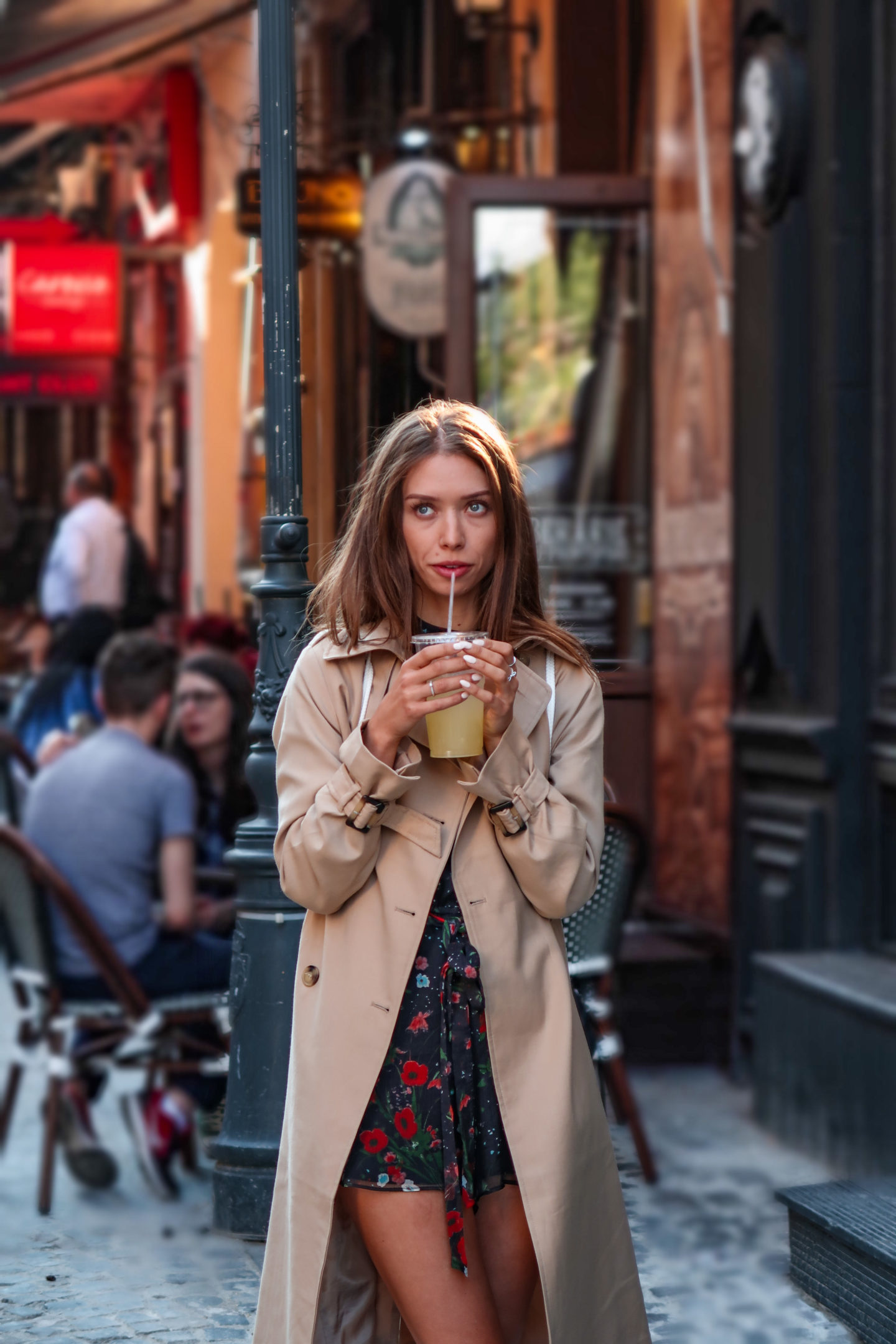 Cărtureşti Carusel
In addition to numerous restaurants, pubs and cafes, in the Old Town, you will also find the beautiful Cărtureşti Carusel bookstore. The building in which it is located a few years ago was in ruins, but now it is one of the most beautiful and Instagrammable sites in Bucharest. In addition to books, you can buy various gadgets, as well as have a coffee or lemonade in a cafe on the top floor. A place definitely worth visiting!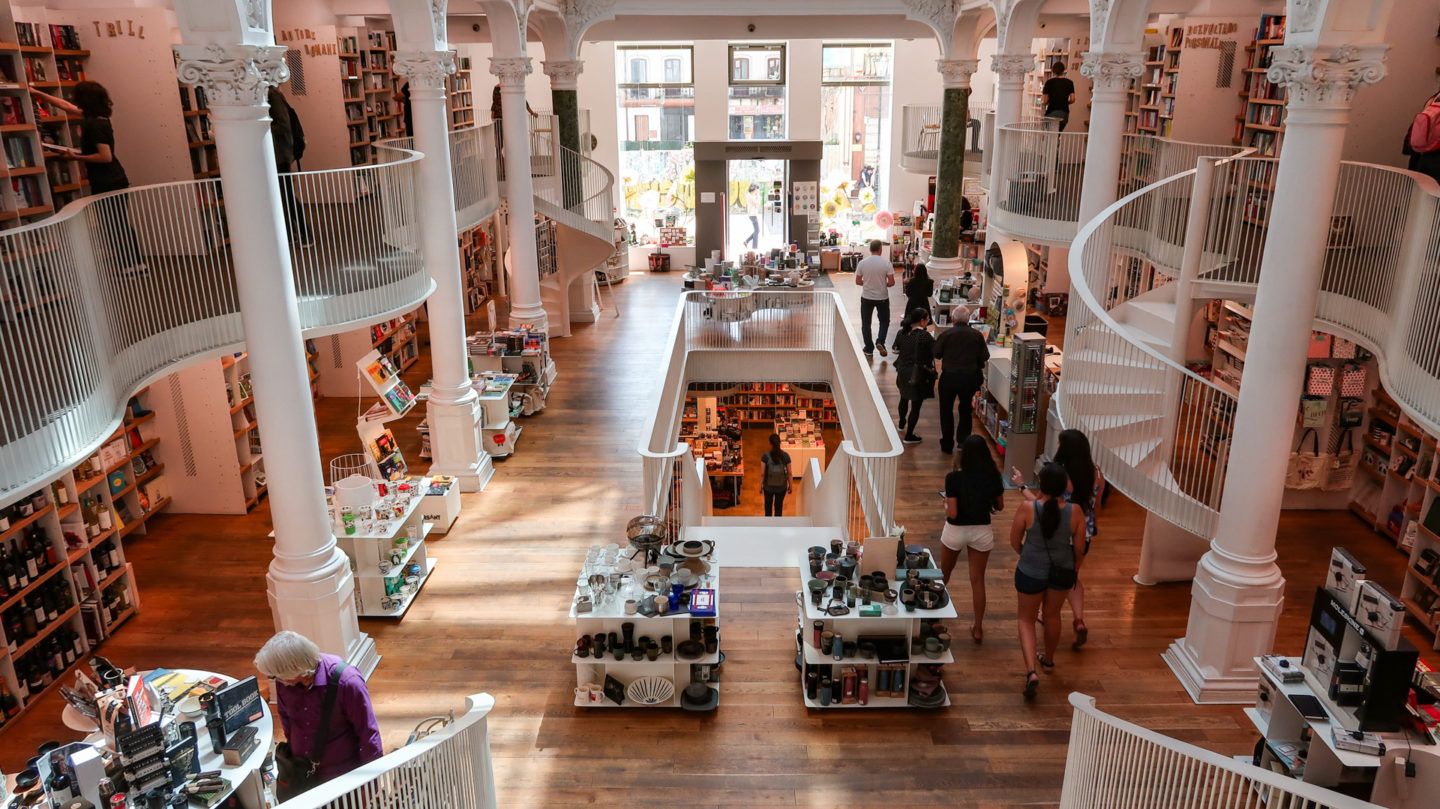 Caru 'cu Bere
Caru 'cu Bere is the oldest restaurant in the city. They serve traditional Romanian cuisine. The restaurant is huge and its interior is impressive. Wooden ceilings and arches, numerous paintings and wood carvings are just some of the elements of the decor. Orders come fast, the service is nice and the food is delicious! We tried traditional Romanian dishes, including stew with polenta, sour cabbage, Romanian sausages and roasted meats, baked trout, as well as dessert, a real star, a Romanian doughnut with sour cream and jam. For lunch or dinner, we recommend you a local Azuga beer, which although not the cheapest one, is delicious, light and refreshing. The prices are very decent.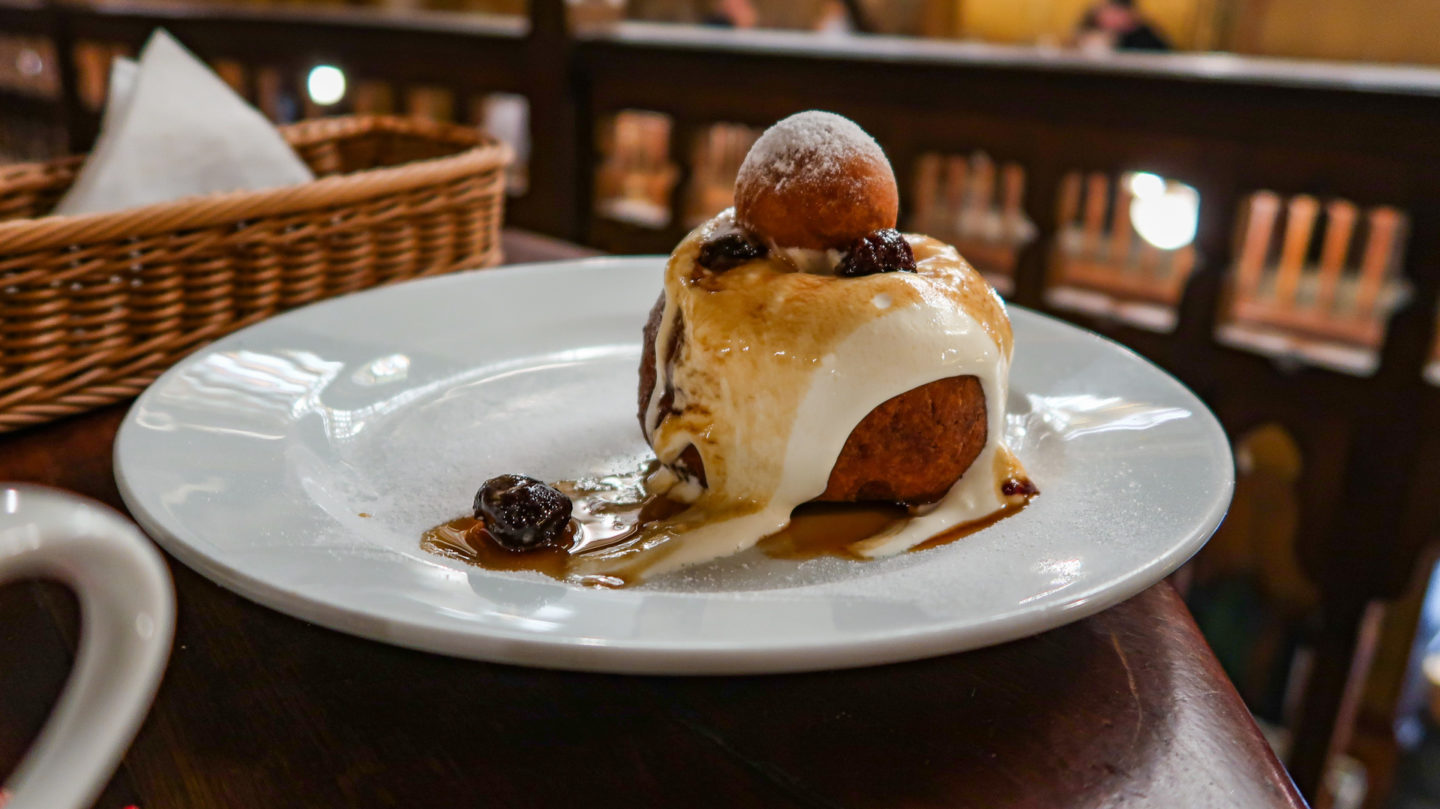 Hanu 'lui Manuc
A restaurant and at the same time the oldest Inn (the equivalent of a small hotel, bed & breakfast or Moroccan Riad) in Bucharest. Hanu 'lui Manuc is another traditional restaurant with a large menu and an even larger patio with numerous tables.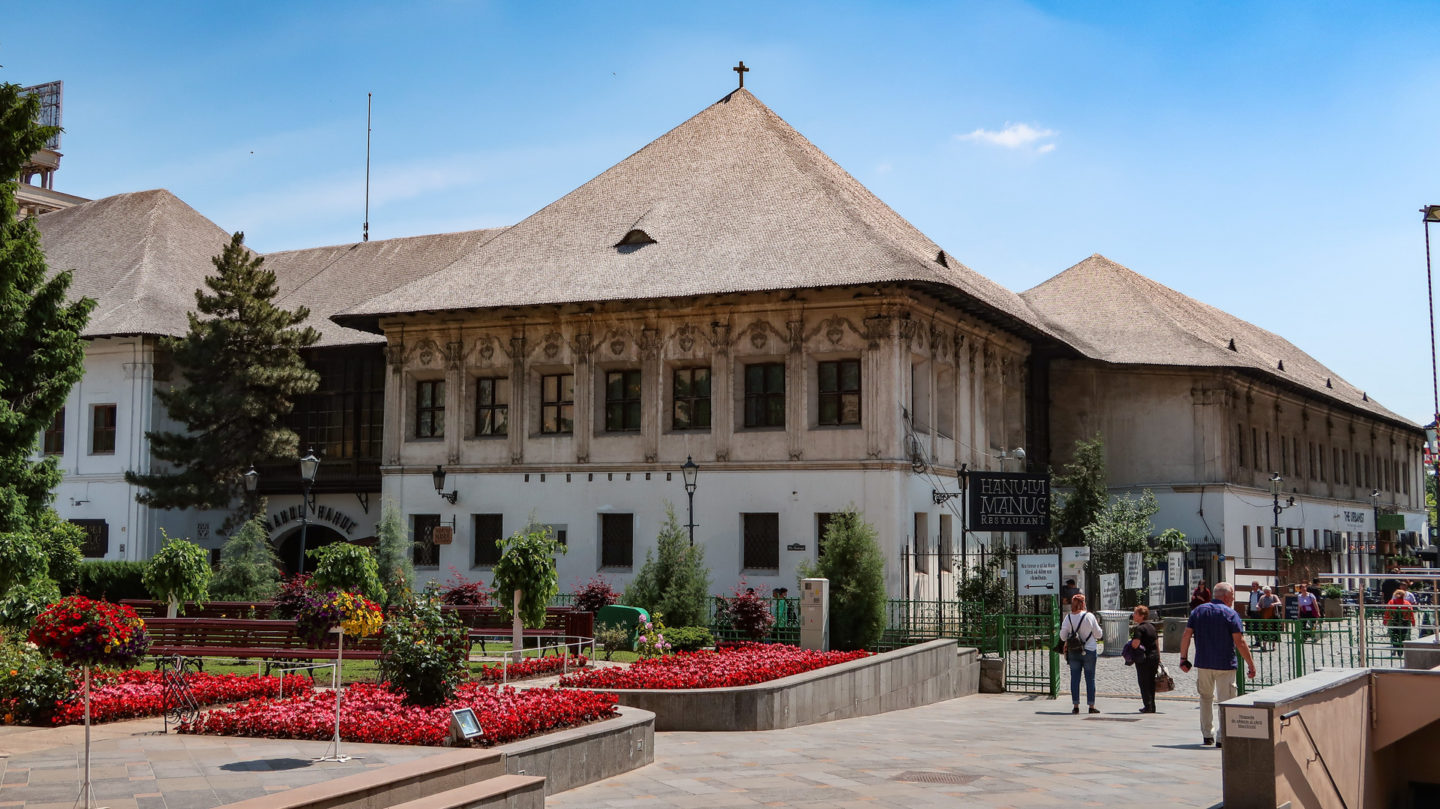 Old Court Church
The Church of Kretzulescu/Old Court Church is the oldest Orthodox church in Bucharest. Its construction began in 1558 and ended in 1591. Over the years and as a result of various events, the church was damaged, but it was restored many times.
Stavropoleos Monastery
A small and one of the most beautiful monasteries located in the old town. It is still inhabited by monks, and on its square, you can find elements of other Orthodox churches and buildings destroyed during communism.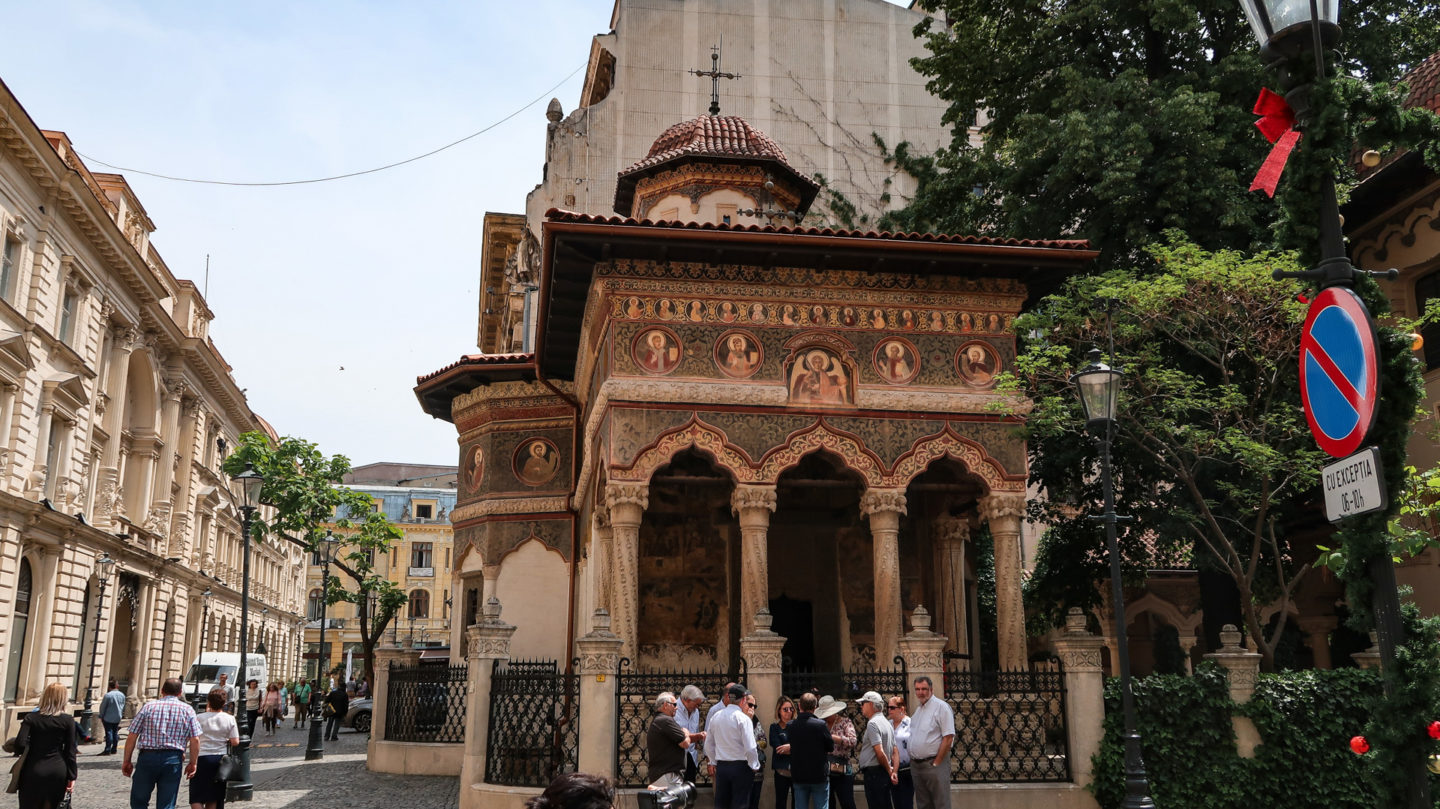 Pasaje Macca Vilacrosse
A unique passage Pasajul Macca Vilacrosse – also called a passage with a yellow roof. It is a very photogenic place and a bit similar to the Gallery Vittorio Emanuele II in Milan. There are many pubs with shisha and cafes here.
People's Palace
This building, very characteristic for Romania, represents the peak of the megalomania of Nicolae Ceausescu. Currently, it is the heaviest and second largest building (in terms of covered area) in the world! The view is really impressive, but you can not forget its history. Many old, beautiful buildings have been demolished, and people evicted to build this massive palace, which interior is currently not even half-used. Now it is the house of the Romanian Parliament. The Palace of the Parliament can be seen inside after the prior reservation of the visit (more information here), but during our stay, it was excluded from the tours.
Victory Road (Calea Victoriei)
Calea Victoriei is one of the most charming streets of Bucharest. In the interwar period, Calea Victoriei became one of the trendiest streets. Walking along this road from Piata Natiunilor Unite to Piata Victoriei you will find some of the most beautiful buildings in Bucharest. Among them, there are the mentioned Stavropoleos Church, the National Savings Bank (CEC), the Cretulescu Church, Atheneum Romanum, and the National Museum of Art.
Atheneum Romanum
It is the most prestigious concert hall in Bucharest and one of the most beautiful buildings. It was built in 1888 in the neoclassical style according to the design of the French architect Albert Galleron.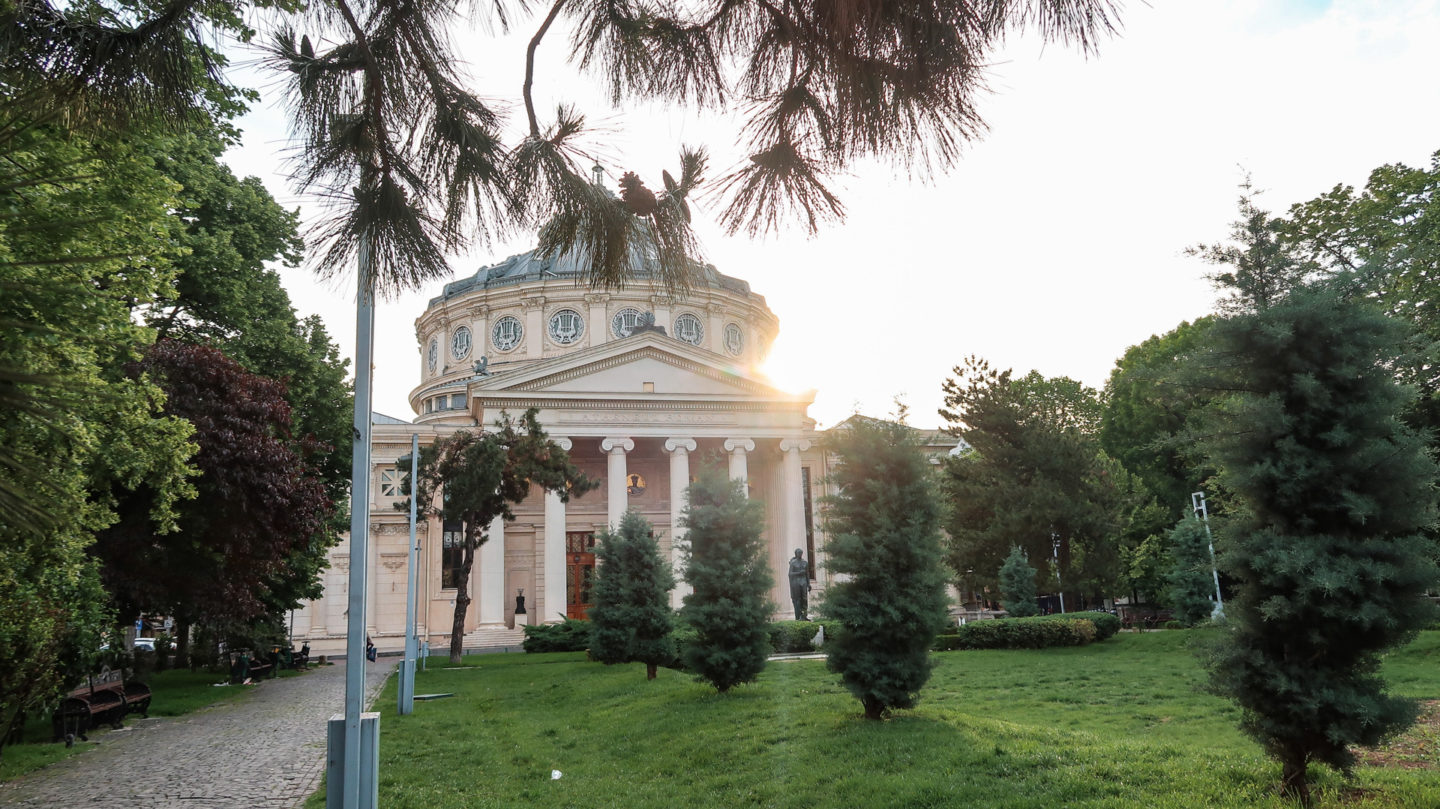 Romanian Savings Bank or CEC building
This beautiful building was designed in the eclectic style by the French architect Paul Gottereau. Its construction began in 1894. On the site of the sixteenth-century monastery Sf. Ioan cel Nou. It was the only bank that could do business during communism.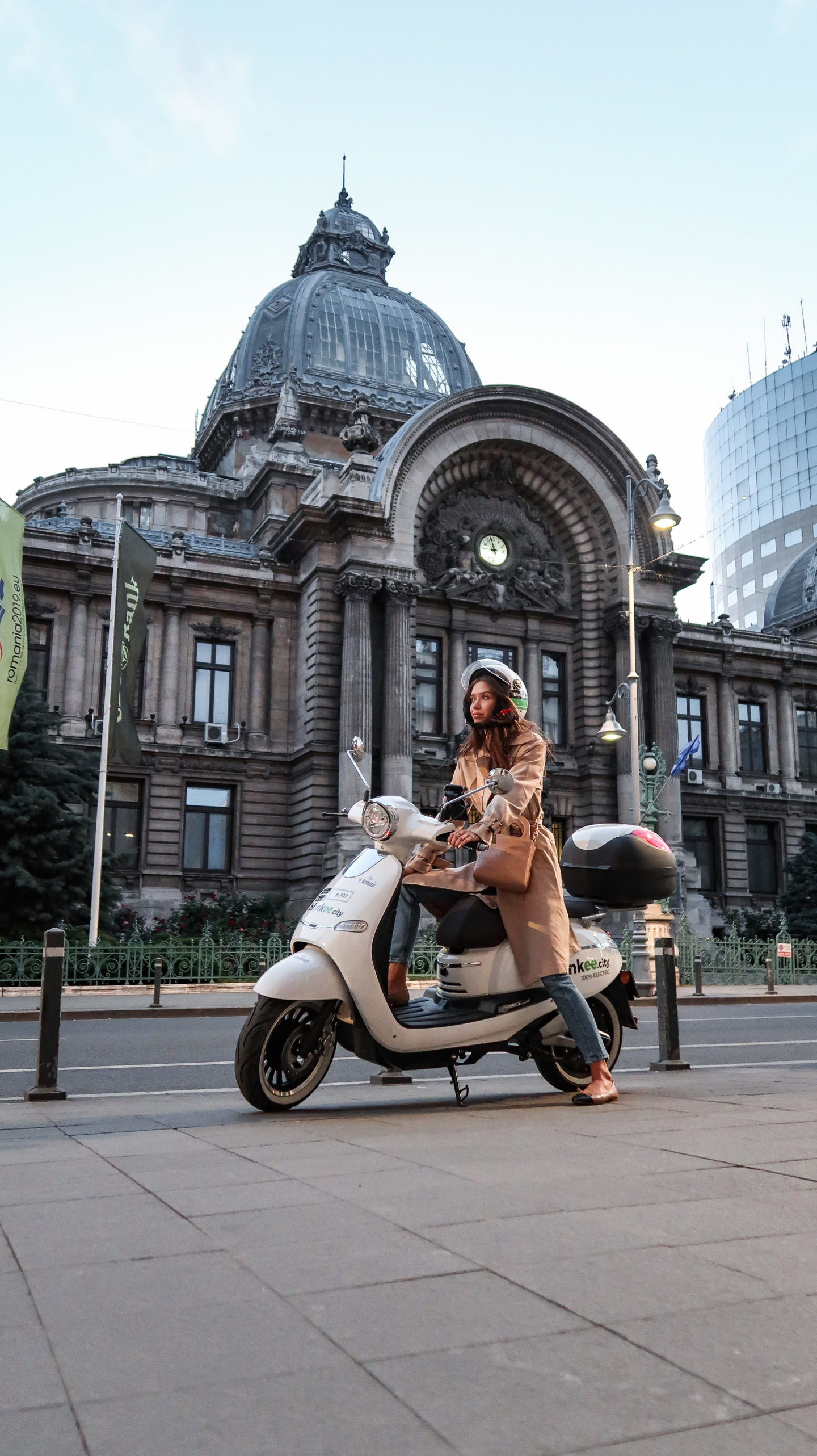 Arc de Triomphe (Arcul de Triumf)
In northern Bucharest, along the Kiseleff street, there is the Arc de Triomphe. It is modelled on the Arc de Triomphe in Paris, and the construction was started in 1935-1936 to honour the creation of Great Romania, which took place in 1918. It is located where two previous arches stood. The current arch is made of concrete and granite.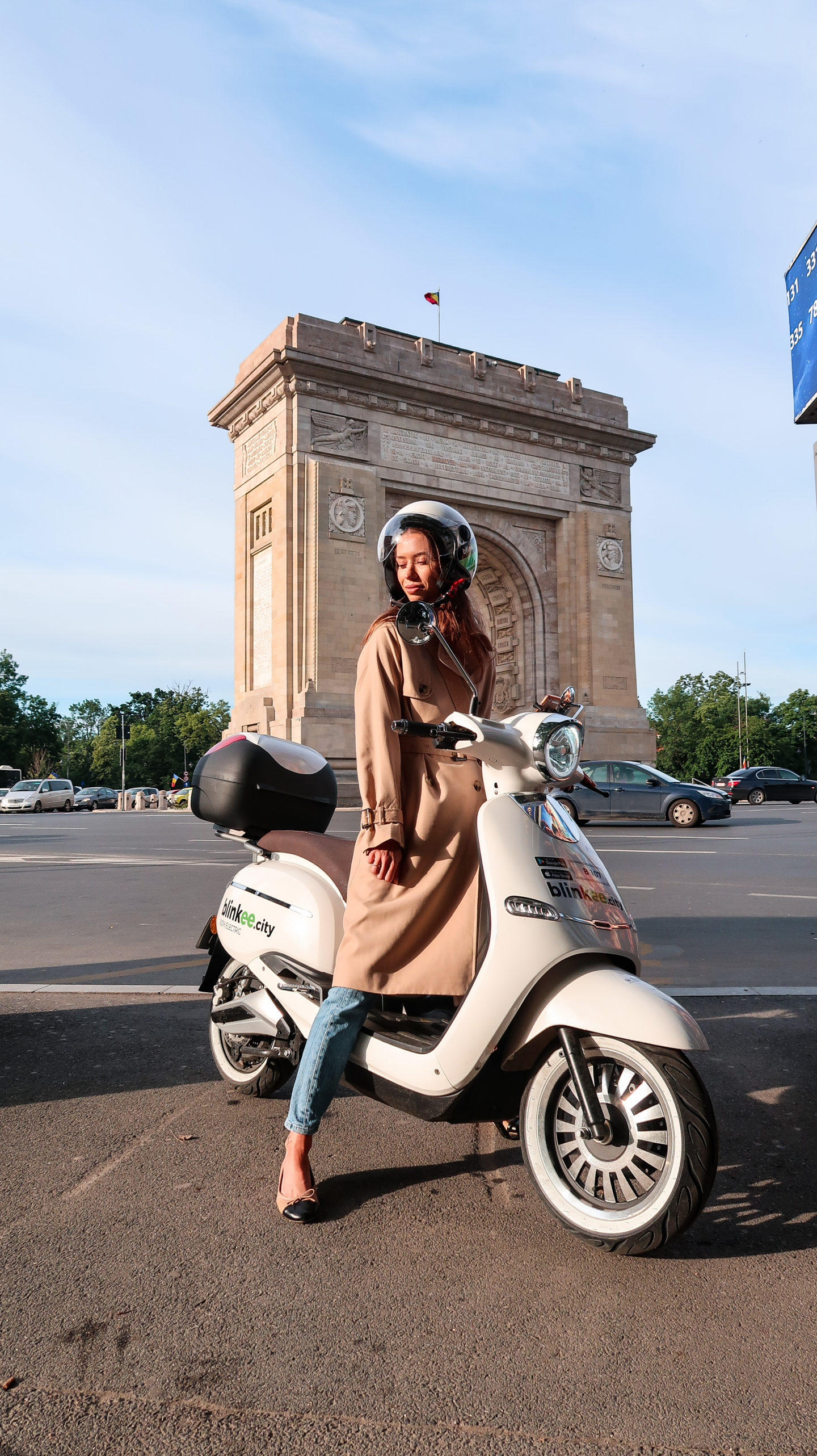 Gradina Eden
"Secret Garden" hidden behind a fascinating historic palace – Palatul Stirbei – on Calea Victoriei street. There you will find a chill atmosphere, trees and hammocks, local beers and cocktails, and even waffles. A place with great vibes!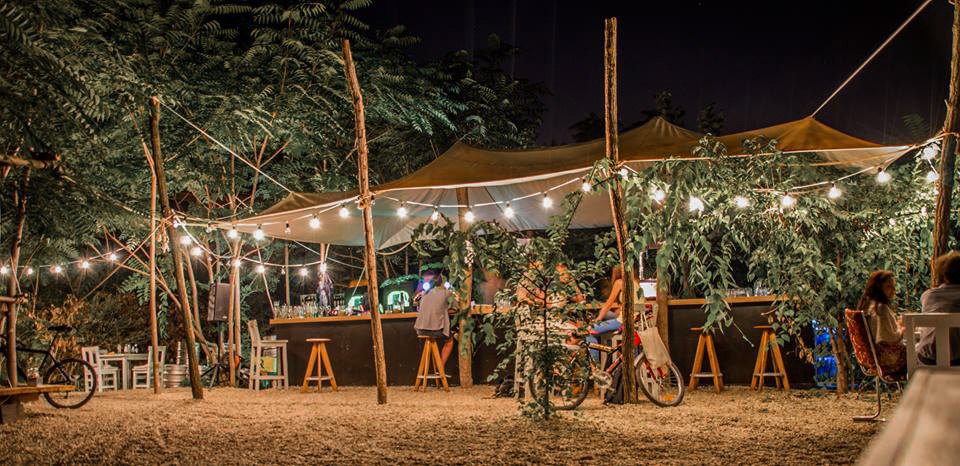 On the map below, we also marked 3 great places for breakfast, and soon we will post a dedicated entry on the blog 🙂
Watch our vlogs
Experience with us!
Brought to you by: Julia & Przemysław