What are the most traditional Moroccan dishes and what should you remember while dining in Morocco? Two top restaurants in Marrakech.
Due to the fact that Morocco is an African country, caution in terms of food is recommended. The food here is rather good of quality so possible abdominal excesses may result from the maladjustment of our bacterial flora.
We would advise you to take medicines for digestion and charcoal with you, and avoid eating on the street stands during the first days of your stay. After adapting your digestive tract, you can already try everything! Below you will find the most important Moroccan foods and restaurants that we recommend in Marrakech.

Tajine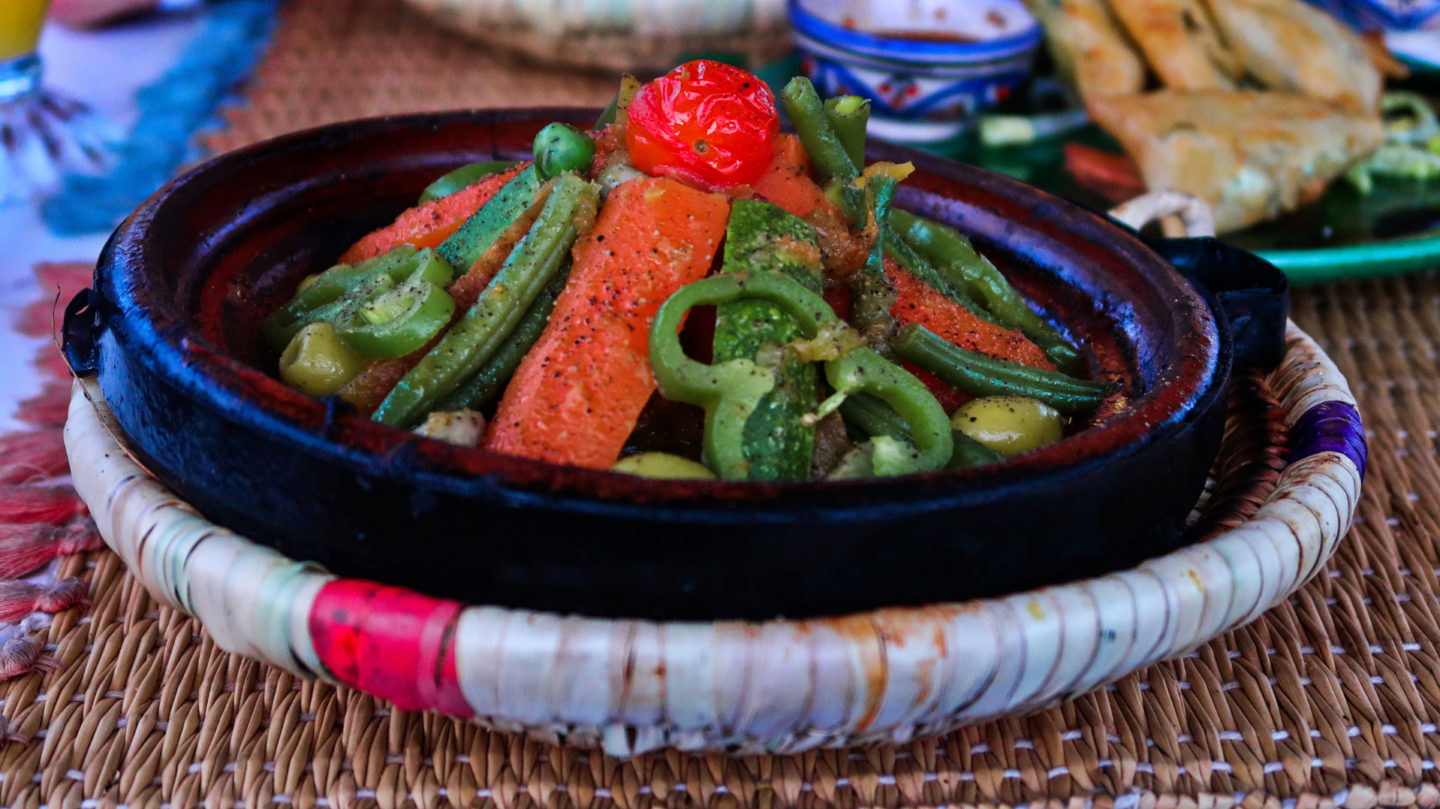 Tajine is a traditional Moroccan dish. Tajine is known to all Moroccan as well as tourists. It is served in every restaurant and occurs in many variations.
The name tajine comes from the dish in which it is served, i.e. a clay cone, which is traditionally put on a clay barbecue with coal. The design of the dish is created to perfectly cook the dish without adding additional water – the water has to come from the ingredients of the dish.
Tajine is a universal dish because it will satisfy both the meat eaters and the vegetarians. In restaurants, you will both find meat and vegetarian versions. Meat options often include lamb, beef and chicken. In some restaurants, you will find a tajine with fish, and in most restaurants, they serve a veggie option. What vegetables can you expect? All! Starting from potatoes, carrots, green beans, peppers, zucchini, squash, peas to tomato and beans. What is very interesting in tajine is a combination of flavours and spices. Very often, tajine is both sweet and salty. Dried fruits like plums or apricots or fresh oranges are often added. The famous Moroccan blend of spices is also noticeable, and it gives the dish depth and of course oriental touch.
What you should remember when ordering a tajine is asking how a dish is prepared. Unfortunately, in a more touristy restaurant, tajine is not prepared in a traditional dish, but in a pot and only later put into it. Unfortunately, it can not be as aromatic and tasty as it should be. Prices range from 60 to 120 MAD, that is 5,6-11 EUR.

Couscous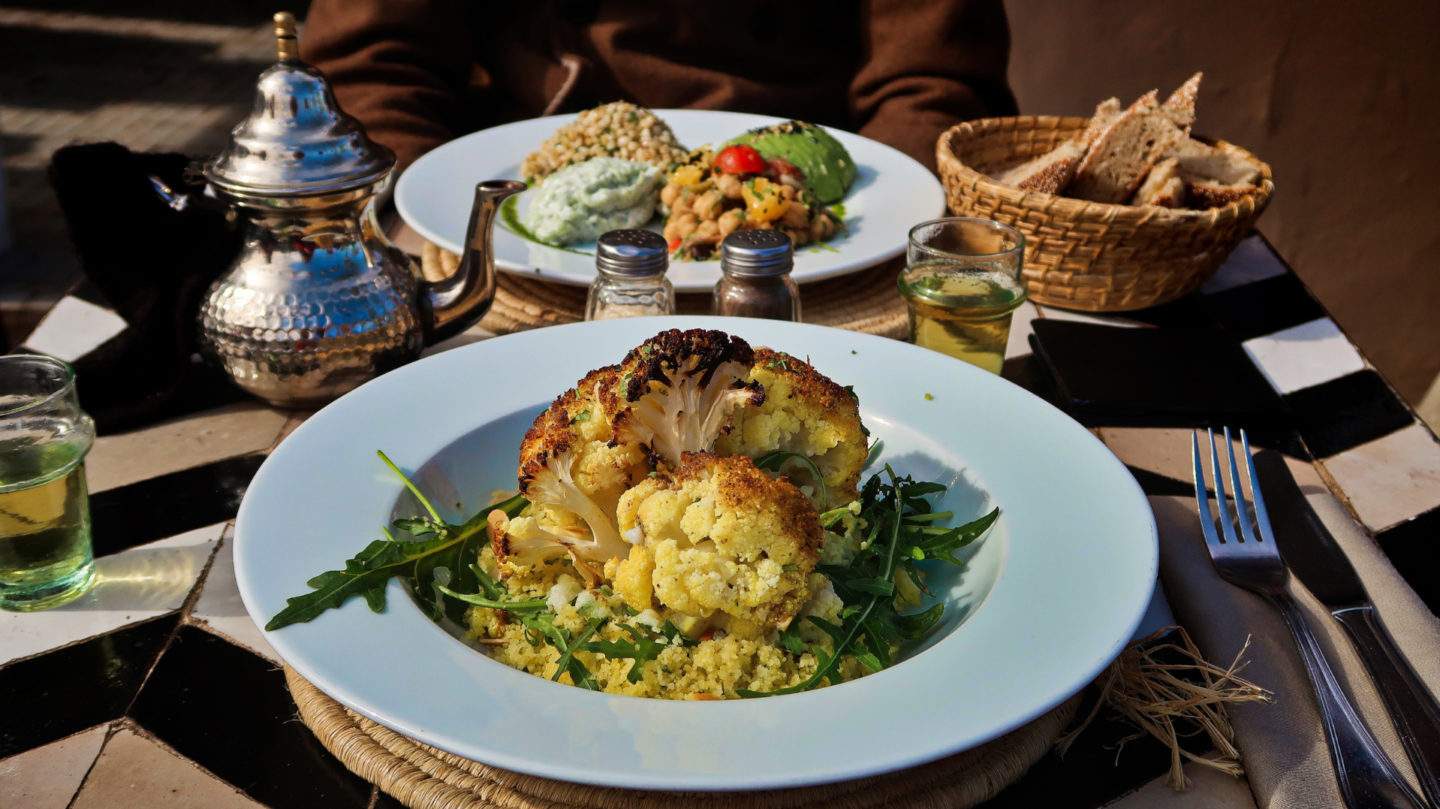 Another very traditional dish is couscous. Couscous is served in a similar way to tajine because it is often accompanied by meat or vegetables.
However, in upper restaurants you will find couscous in much more sophisticated versions. For example, in combination with aromatic herbs, almond flakes and pomegranate seeds, as well as roasted cauliflower in turmeric and harissa. Or with mint, green vegetables and feta cheese. Or also a fish soup with giant couscous and tomatoes. Inexpensive dish (60-120 MAD, that is 5,6-11 EUR) and very filling.

Skewers
With beef, mutton, chicken, meatballs or their mix. Meat is put on the metal stick and usually served solo. They are quite intense in taste and what is probably obvious, very meaty, so it's worth ordering some sides. The price is about 70 MAD, so 6,5 EUR.

Moroccan salad
What is the traditional Moroccan salad? It's very simple, because it consists of diced ​​tomatoes, green peppers, onions, herbs and Moroccan spices. Simple, tasty and refreshing. Price 40-60 MAD, or about 3,7-5,6 EUR

Briwats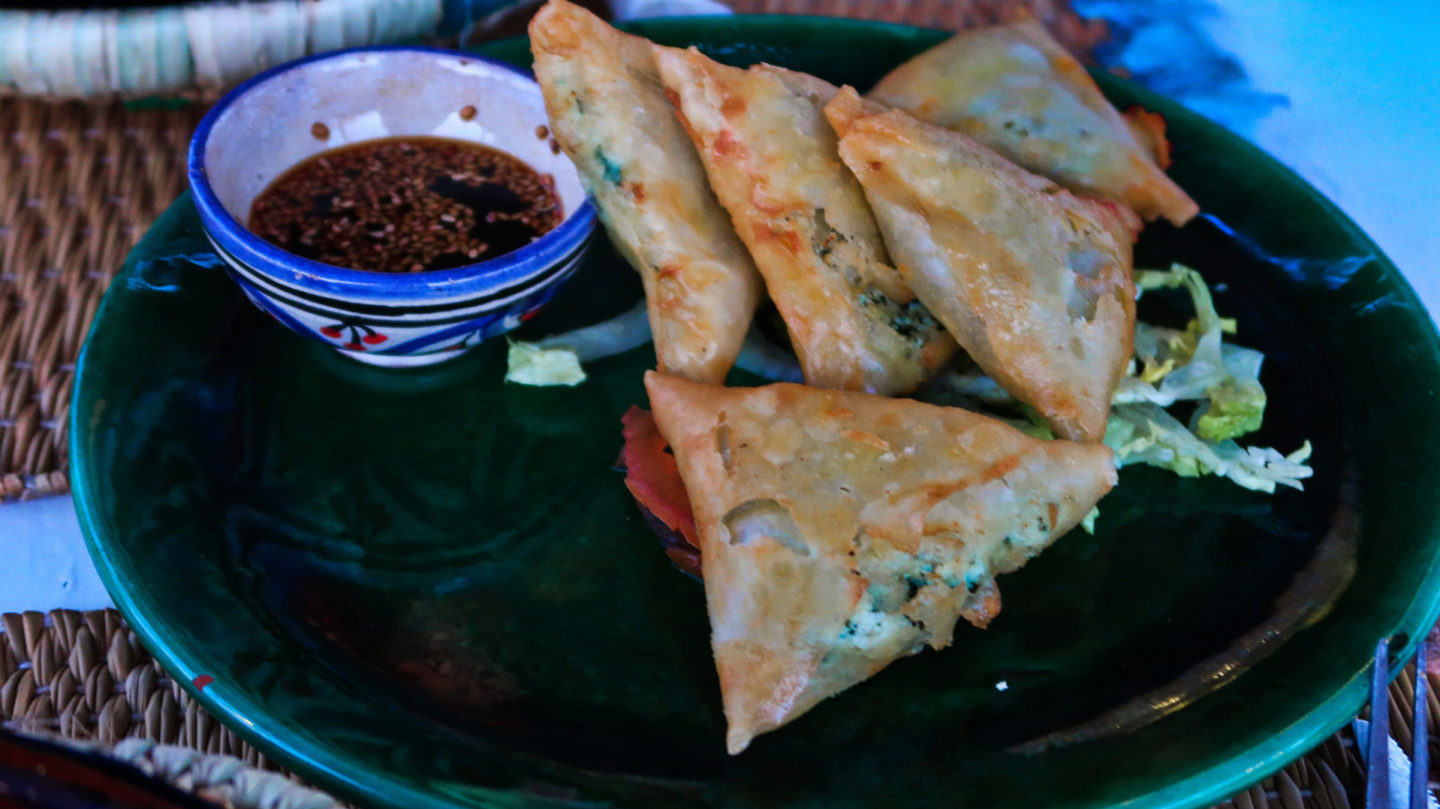 Under this exotic name, there are just cakes made of filo-like dough. Fillings can be different, we ate, for example, with fish or feta cheese and spinach. Crunchy, salty and surprisingly filling. Price is about 50 MAD, or 4,6 EUR.

Moroccan olives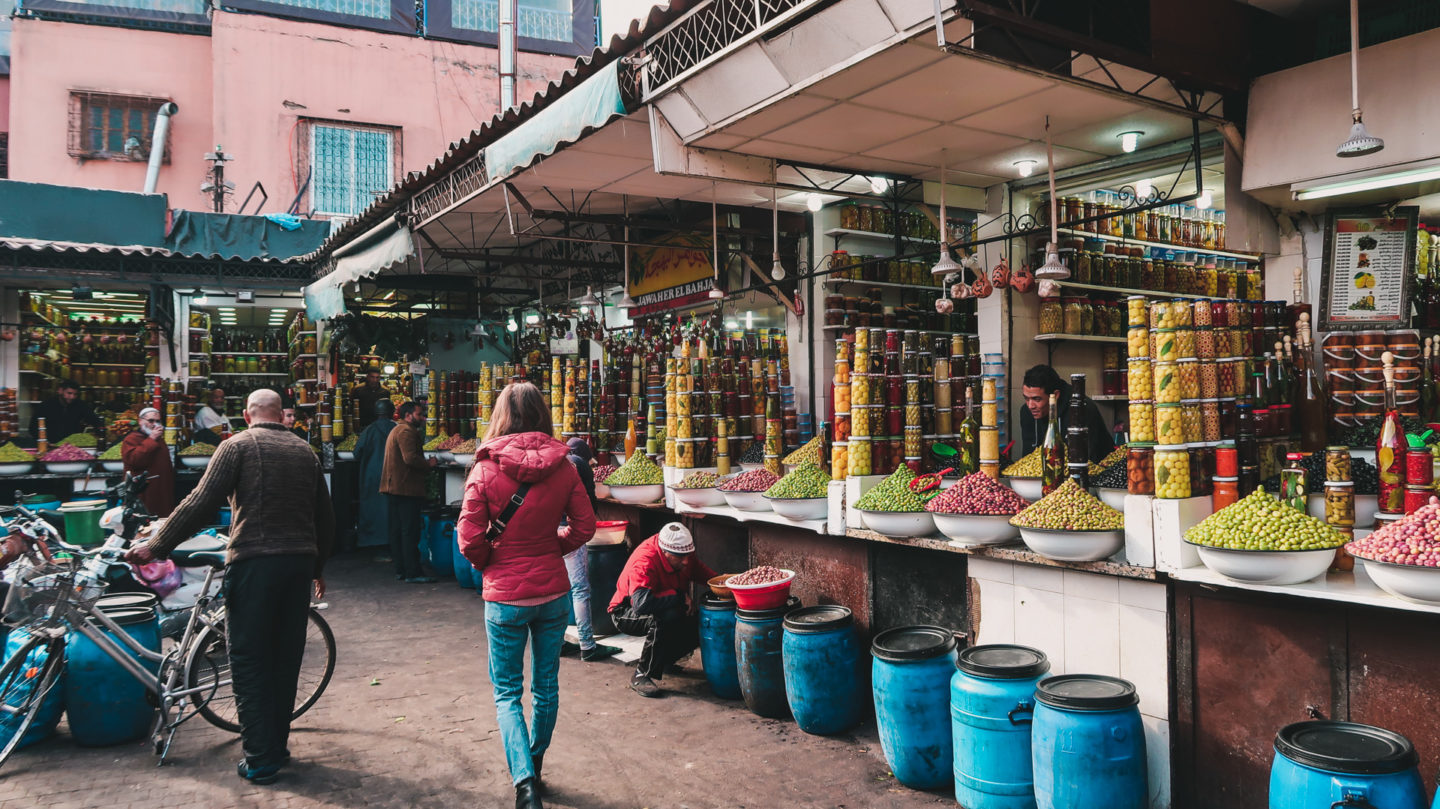 You eat them as an appetizer or an ingredient of various dishes. They have a deep and unique flavour – completely different from Greek, Italian or Spanish olives. At the Souk, you can buy olives to take home, check the post about shopping in Morocco.

Msemmen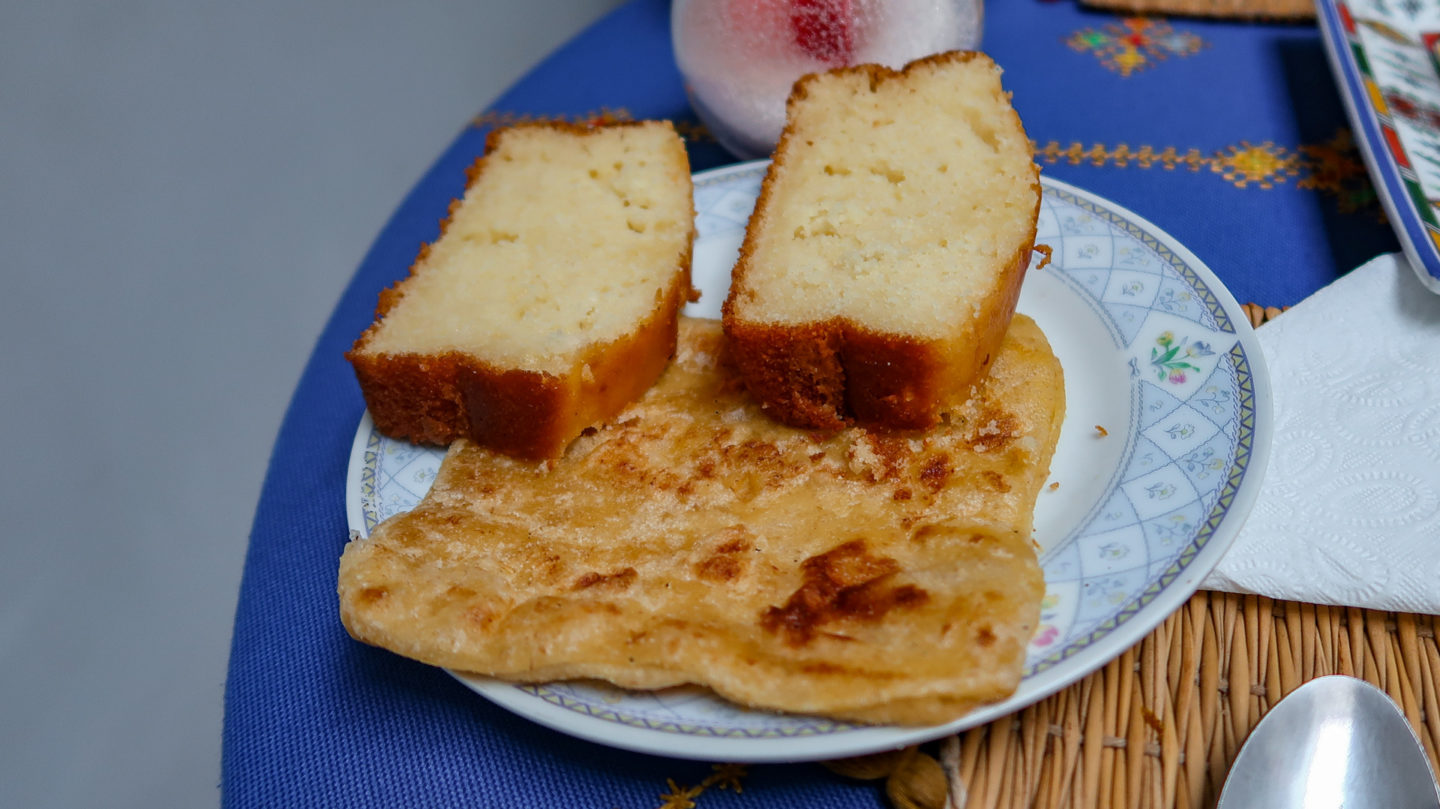 Msemmen, or a Moroccan pancakes, you will most likely eat for breakfast in Riad. It's fatty and sweet. However, it also occurs in the salty version and you will find it on street stalls. The pancake made by Moroccan ladies is an ideal snack during the day, and usually costs about 10 MAD, or 1 EUR!
Drinks
When it comes to drinks, we strongly recommend you Moroccan mint tea. Traditionally it is extremely sweet, but you can ask for it without sugar. In cooler months it is warming and in the heat, it cools nicely. Delicious!
You also can not try the squeezed orange or pomegranate juice. The fruits here have an intense and very sweet taste, so freshly squeezed juice is a real delicacy.

Which restaurants should you choose?
Everywhere we ate we like it but we particularly recommend these ones:

Nomad Cafe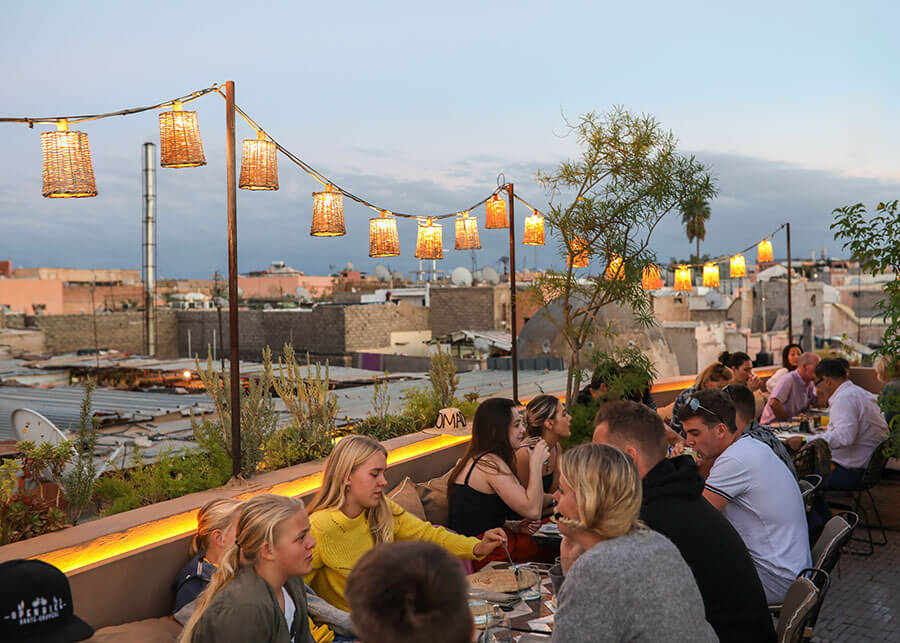 A higher-class restaurant and popular among the tourists. Here you will find more interesting variations on traditional dishes, as well as a higher class of meat and seafood. Their cuisine is described as a modern Moroccan with the addition of international dishes with a Moroccan twist. The food is really delicious and the prices are ok:
squid from Agadir with cumin, anchovies and harissa sauce, as well as stewed Italian fennel – 120 MAD, approx. 11 EUR
Vegetarian plate: chickpea salad, tzatziki, avocado and barley with celery and sesame seeds – 100 MAD, approx. 9 EUR
Grilled lamb chops served with spiced potatoes, zucchini with marinated lemon peel and homemade harissa – 130 MAD, approx. 12 EUR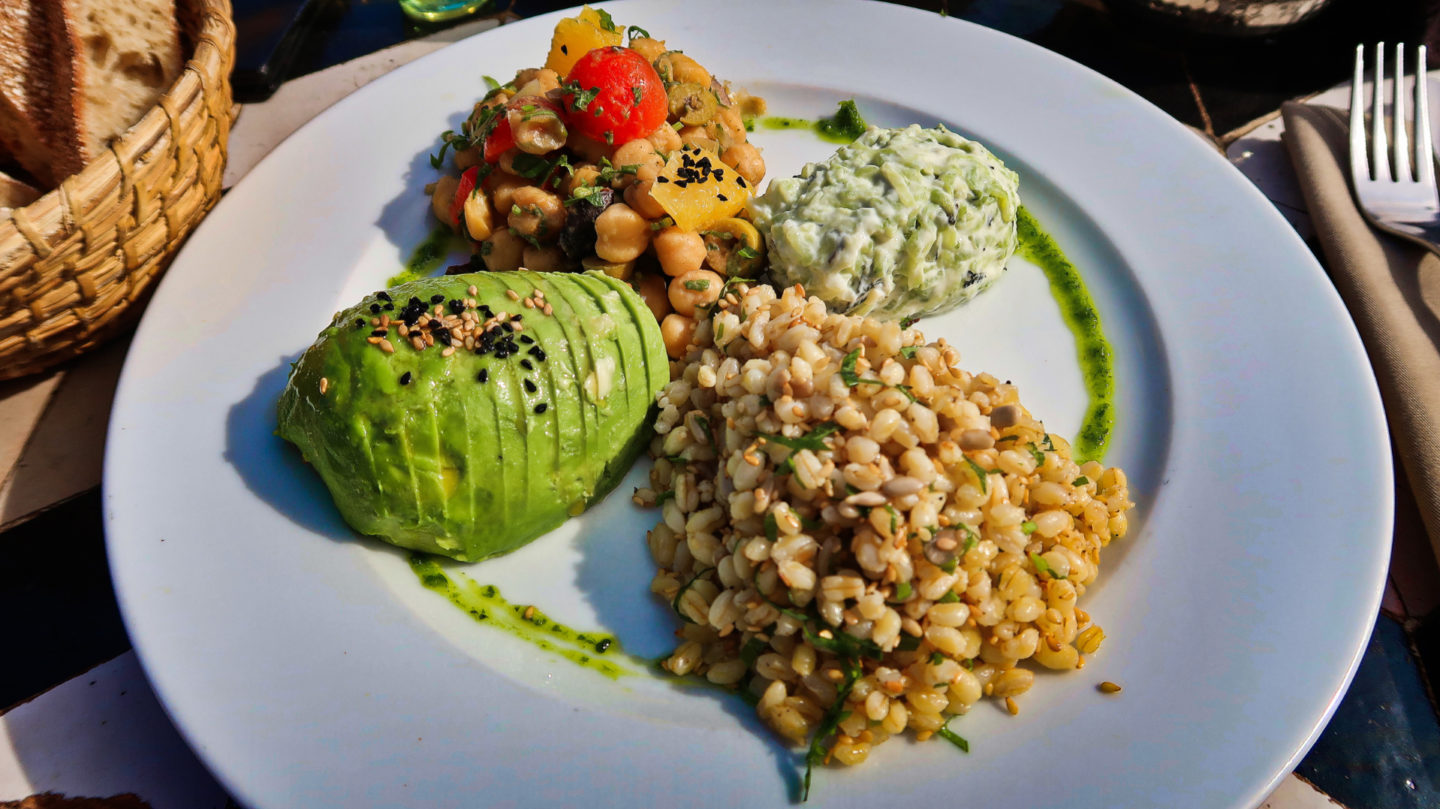 When going to Nomad Cafe, remember that it is better to book a table. Otherwise, they can settle you with a view of 'ugly' roofs.

Atay Cafe Food
Atay Cafe is a place with a great terrace. It was here where we recorded a video about food in Morocco, which you can find below. In addition to the magical terrace, where most of the city and sunsets can be seen beautifully, Atay Cafe is also a great cuisine. It is both cheap and good -which is rarely found:
vegetarian tajine – 65 MAD, approx. 6 EUR
Moroccan salad – 40 MAD, approx. 4 EUR
lamb tajine with dried apricots and plums – 95 MAD, approx. 9 EUR
orange juice – 20 MAD, approx. 1,9 EUR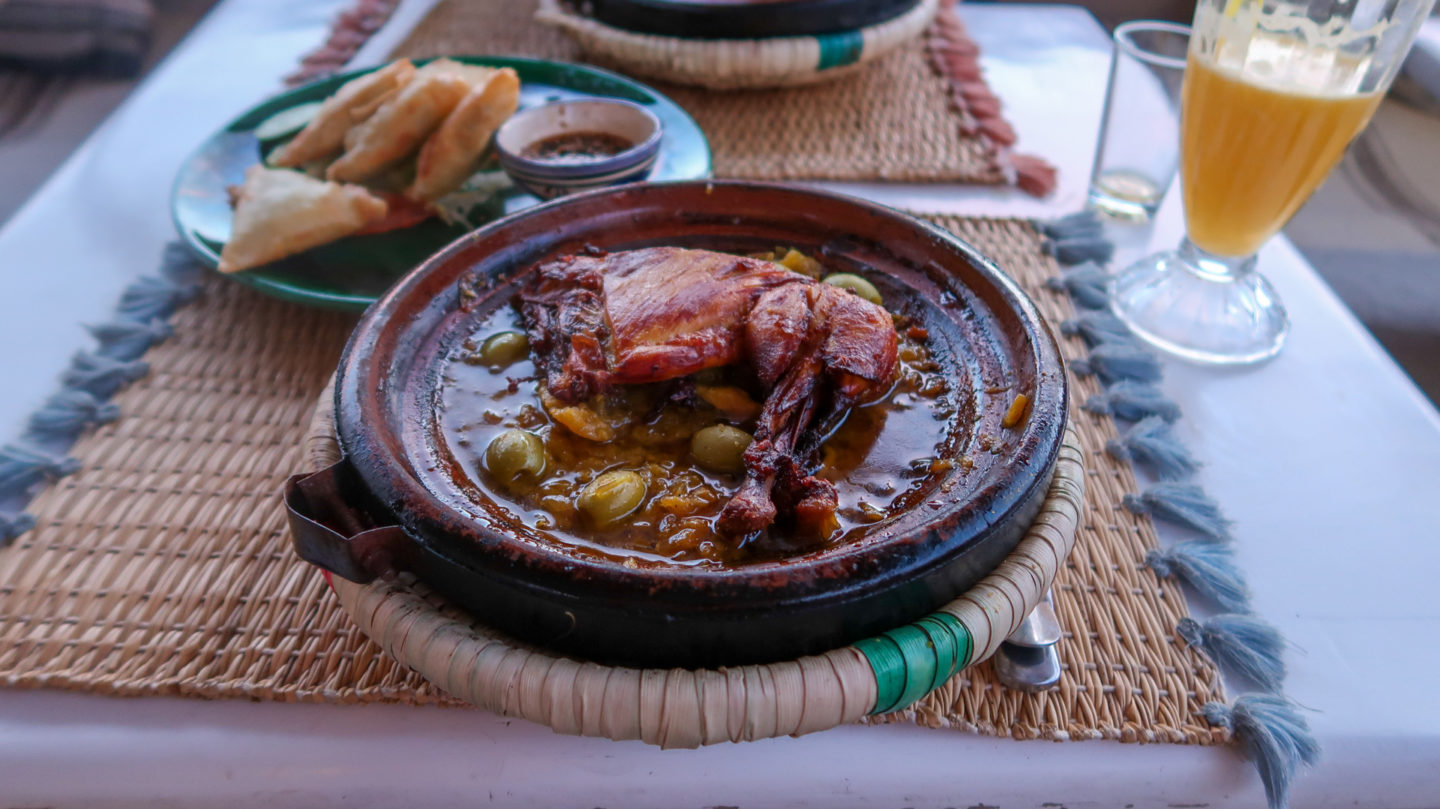 Have you ever been to Marrakech? What other restaurants would you recommend?
Experience with us!
Brought to you by: Julia & Przemyslaw