During our trip to Puglia after visiting Bari, the time has come for the famous Alberobello. There is nothing to hide, it was photos from this charming town that was the main stimulus initiating our Puglian adventure.
Alberobello is a small and unique town in Puglia, which is super known and attracts hordes of tourists every year. Therefore, it is very crowded in the season and to visit it in a fairly comfortable way, it is best to come here early in the morning. In autumn, however, it is surprisingly quiet and much more authentic.
What is Alberobello famous for? From rustic trullo houses! Although there are many in the whole region of Puglia, it is in Alberobello that there is the largest group. There are over 1500 here, most of them are restored and intended for restaurants, souvenir shops or as a unique accommodation for tourists who are looking for an authentic experience.
We have prepared a short guide on how to make the most of your time in Alberobello.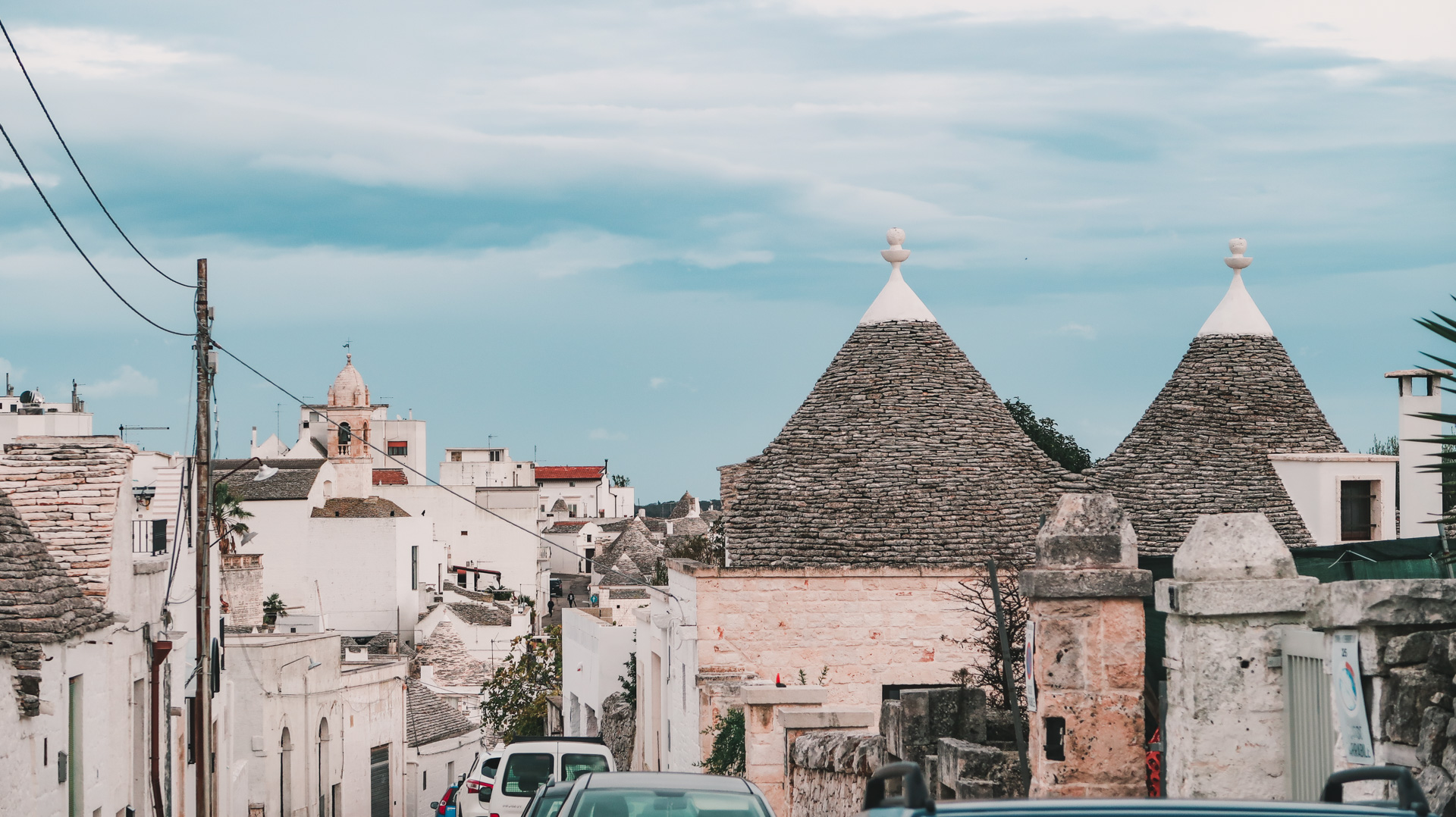 A brief history of trullo houses
Trullo is a small house built of limestone collected in the fields, usually on a circular or square plan. Pieces of limestone are laid on top of each other without mortar. A roof is also made of pieces of limestone and finished with a white tip. Often, the houses are whitewashed from the outside, and mythological or religious signs are painted on the roofs.
The trulli (plural form for trullo) from Alberobello represent the tradition of building from dry stone, several thousand years old, occurring in the entire Mediterranean region. Trulli in Alberobello come from the mid-fourteenth century and are listed on the UNESCO World Heritage List.
But, how did these unique buildings come to be in Puglia?
In 1500, the Acquaviva family, local rulers in a feudal system, wanted to avoid paying property taxes to the King of Naples. They ordered local peasants to build their houses without mortar so that in the event of royal control, the structures could be easily and quickly removed and the tax remained low. Using local limestone and some brilliant construction techniques, the local population created trulli, many of which are still standing and subject to special maintenance regulations.
What to do in Alberobello?
Walk
Of course, among cute trulli, it's best to include the observation deck on Via Monte Nero on the route, go up Via Monte Pasubio, up to the place where the panorama from the southern side of the town is visible. If you want more privacy, get up early in the morning. Then there are no tourists from the bus tours on the streets and you can take beautiful pictures in peace. As we have written above, arriving from Alberobello in low season is a brilliant idea. You can then expect a handful of tourists and truly Italian views. Read about more advantages on travelling to Italy in Autumn here.
Visit the trullo
It's also a great idea to visit the trullo house from the inside, and even better pick one as an accommodation. Such pleasure is unfortunately quite expensive, so if it exceeds your budget, we truly recommend Casa Vacanze La Foggia – we were very pleased with it.
Churches in Alberobello
It is worth visiting two churches: the Basilica of Santi Medici on a cruciform plan, as well as the Church of Sant'Antonio di Padova, which architecture refers to trullo houses.
Visit Trullo Sovrano
The only trullo with two floors in the city, which is now a small museum. The museum is open from 10 am to 1:30 pm, and later from 3:30 pm – 7:00 pm (until 6:00 pm from November to March), and admission costs EUR 1.50.
Eat
Go for a delicious Italian dinner at one of the many restaurants. We recommend you Terra Madre, where they serve seasonal vegetables grown in their own garden. You can opt for vegetable tasting and/or main courses. The food is fresh, the wine is excellent, and the chef will surprise you with various dishes from vegetables.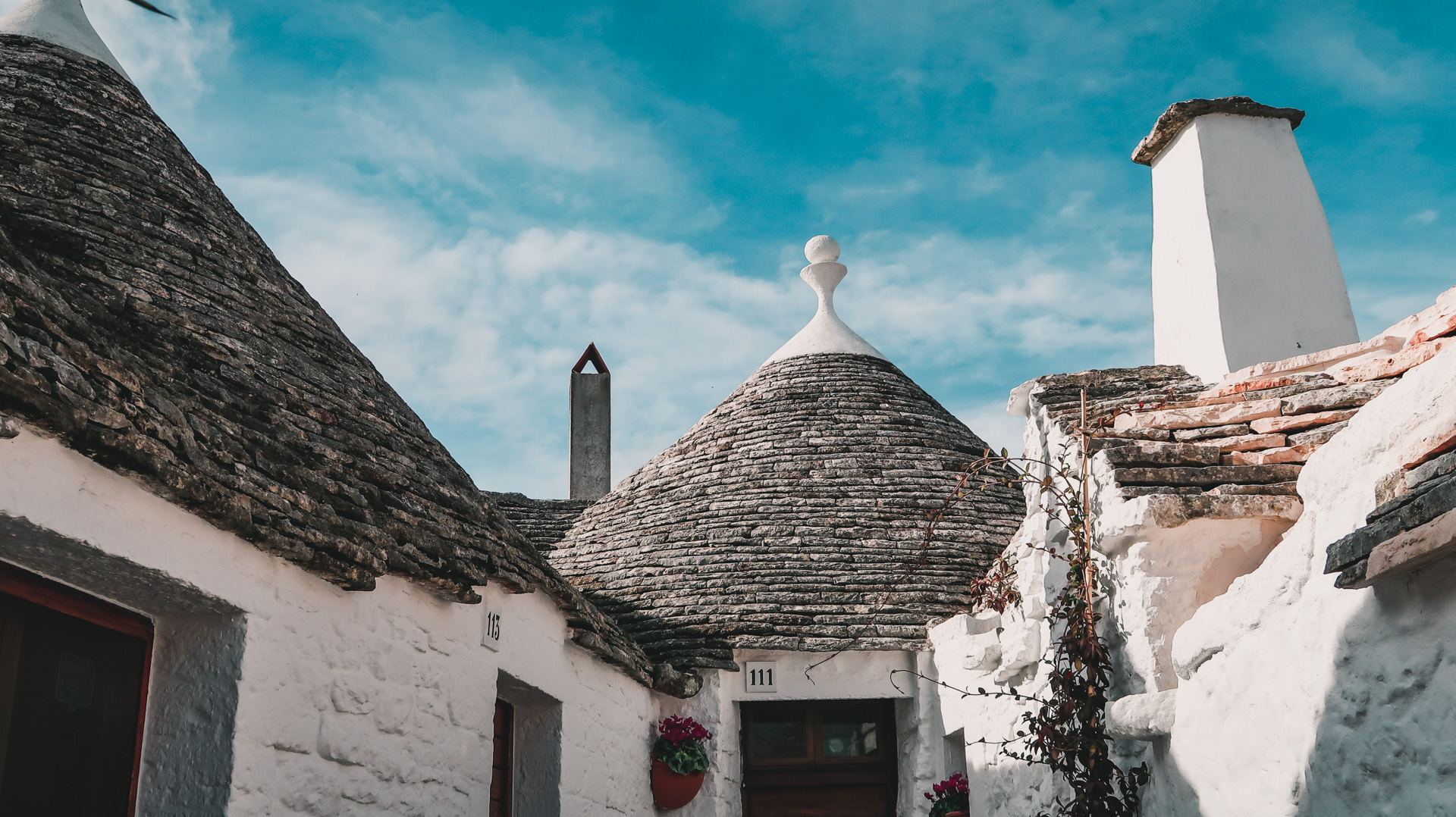 If the photos from the town were not convincing enough for you, watch our vlog, where we managed to capture the charm of Alberobello!
---
Experience with us!
Brought to you by: Julia & Przemyslaw