Puglia is famous for its great beaches and unique coastal towns. It's a region where you can really feel 'La dolce vita'. Among the many towns on the Puglian map, Polignano a Mare and Monopoli definitely stand out.
Only 15 minutes away by car, Polignano a Mare and Monopoli carry a coastal breeze, the soothing sound of the waves and the fulfilling shade of the turquoise sea.
Polignano a Mare
Polignano a Mare, in particular, wins the hearts of tourists, mainly due to the visible on the most popular postcards Lama Monachile beach.
What to do in Polignano a Mare?
No matter what time of year you have to go to Lama Monachile beach. In the summer season, it is cherished by sunbathers who spread multicoloured towels on it, jump into turquoise water from limestone cliffs and simply enjoy the charms of holiday weather. In low season, when you can not sunbathe anymore, it is still a place to meet and rest. It is worth remembering, however, that the beach is pebbled, so you can use e.g. foam pads, blankets or air mattresses.
Eat seafood. Where is better to munch on shrimps, mussels, fish and other sea delicacies than just at the seaside? There are many great restaurants in Polignano a Mare, so there is plenty to choose from.

We, on the suggestion from various blogs, decided on Pescaria, in which they specialize in seafood sandwiches – fried and raw. They also serve seafood in a saute version, without any additions. Unfortunately, we were disappointed. This place is extremely popular. At lunchtime, a large queue is set up (separate for placing orders at the checkout and separate for the tables). It's hard to get a seat, but you can always take the food, e.g. to the beach. However, in our opinion, sandwiches are not as unique as other Italian dishes. We ordered a sandwich with boiled shrimp, mozzarella and eggplant. The portion was solid, but we were surprised by the presence of crisps inside the sandwich. The dish was heavy and our stomachs were a bit poorly afterwards. It may be a shame to admit, but most shrimps were eaten by a local cat.
Watch the sunset from the Terazzo Santo Stefano observation deck. The view from this place is breathtaking. The beach Lama Monachile, the nearby cliffs, intensely turquoise water, as well as the bridge connecting two parts of Polignano – Ponte di Polignano, located behind the beach, is clearly visible from this spot.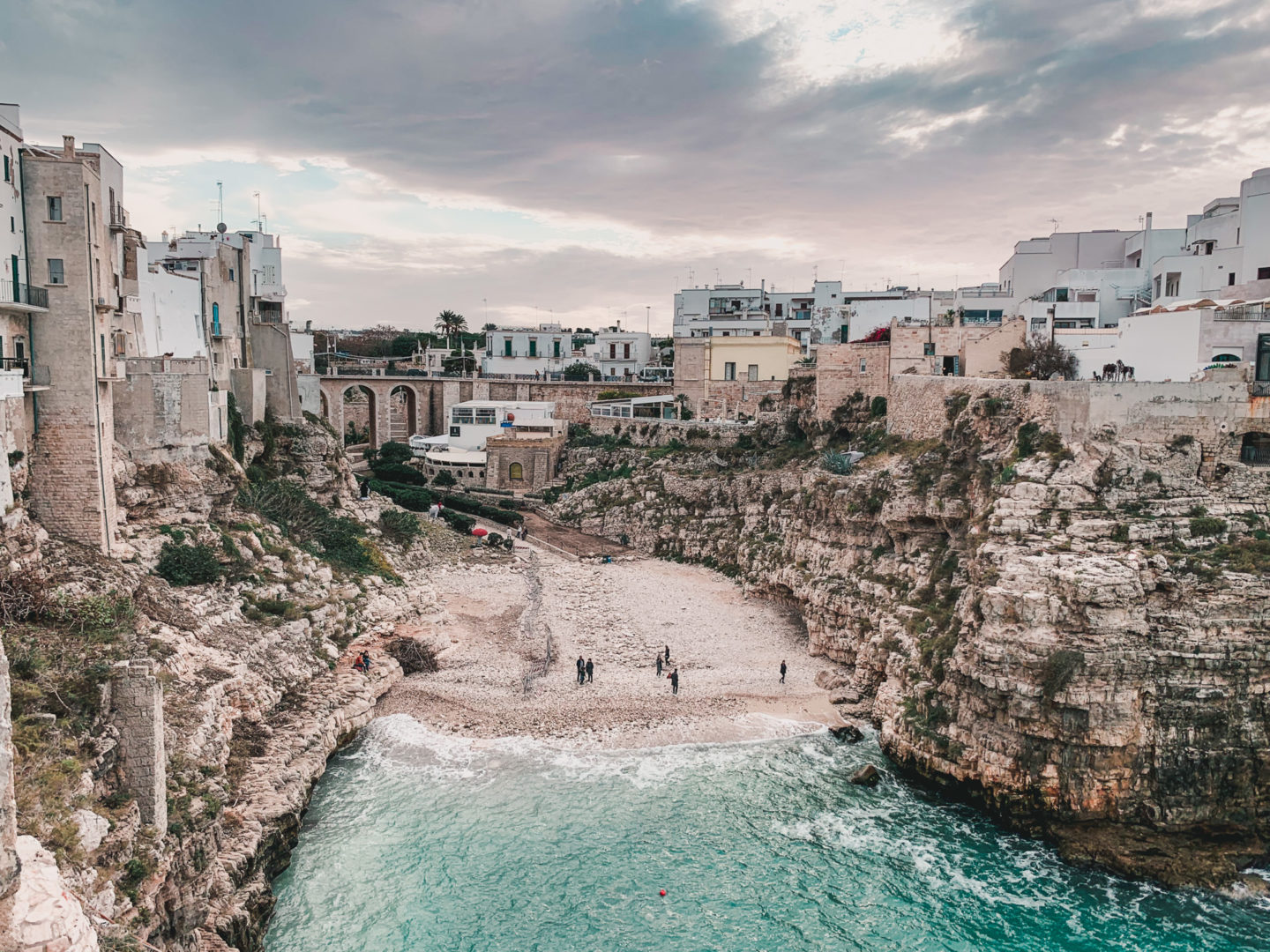 Stop for a coffee or aperitif in Piazza Vittorio Emanuele II. Like any Italian town, Polignano also has its own square, where locals and tourists meet. Square in the season is a popular and great place to sip a drink.
Enjoy an unforgettable meal at Grotta Palazzese. It is a restaurant hidden in a cave with a spectacular terrace overlooking the sea. Definitely not for those on a budget, but if you want to splurge, you probably won't find a more magical restaurant in the whole of Puglia. Tip – they also have a hotel, if your funds only allow it!
Go on cruise on the sea near Polignano a Mare. You will learn some history and also visit caves nearby.
Go on a cooking course. Prepare pasta and other dishes that you will taste later. The ingredients for the dishes will come from the host's garden. Warning! Dessert is also at stake 😀
Wander the streets of the town, eat ice cream, shop in small boutiques and just get carried away by the Italian way of life!
Where to sleep in Polignano a Mare?
You can choose from luxury hotels (e.g. Grotta Palazzase) or budget Airbnb, as they say, 'sky is the limit'. We managed to find some nice offers for apartments, e.g. such a hipster apartment with a sea view terrace, small, but a well-located apartment with free wifi, or a spacious apartment for 4 guests with a well-equipped kitchen.
How to get to Polignano a Mare?
Access by car from Monopoli will take about 15 minutes, from Bari about 40 minutes, and from Ostuni about 36 minutes.
It is very easy to reach Polignano by train from Bari – Trenitalia runs almost every hour, the journey costs around EUR 2.50 and takes about 30 minutes.
Monopoli
Monopoli impresses with its fishing port and soothing architecture. It's definitely a calmer town than Polignano a Mare, you won't meet groups of tourists here. There is a promenade, there are sandy beaches, there is the Castle of Charles V (Castello di Carlo V) as well as the Cathedral of Maria Santissima della Madia.
What to do in Monopoli?
We will repeat ourselves, but walk! The picturesque streets of Monopoli grip the heart and are also great scenery for photo sessions!
Enjoy dinner at Piazza Garibaldi. This square is the heart of the city, full of atmospheric restaurants and baroque tenements.
Go to the port with blue boats. Here you can buy fresh seafood straight from fishermen!
Visit the Cathedral of Maria Santissima della Madia. It was built in the 11th century and later converted into the Baroque style.
Walk south along the promenade and see the Castello di Carlo V on the way.
Sunbathe. For example on the very close to the city centre beach Porta Vecchia, climatic Porto Rosso, Porto Bianco or Cala Cozze. All surrounded by shops and restaurants, which can be quickly reached.
Take a guided tour that will end up with tasting local snacks.
Where to sleep in Monopoli?
At Airbnb you will find, for example, this great, affordable and clean apartment, such a modern apartment with breakfast, as well as a flat with a terrace.
How to get to Monopoli?
By car or train from Bari. The journey takes about 40 minutes and the ticket costs EUR 3.20.
Experience with us!
Brought to you by: Julia & Przemyslaw