Matera is an Italian city that few people talk about. For many years it has been a forgotten place and it is extremely amazing surprising because Matera is probably the third-longest inhabited settlement in the world. The first residential zone originates from Paleolithic, and later settlements illustrate several important stages in human history. What's more, this is not an ordinary settlement – it is a city carved out of a rock. The network of natural caves undoubtedly attracted settlers a long time ago, and with time and development, more complex buildings began to be carved out the rock above the caves.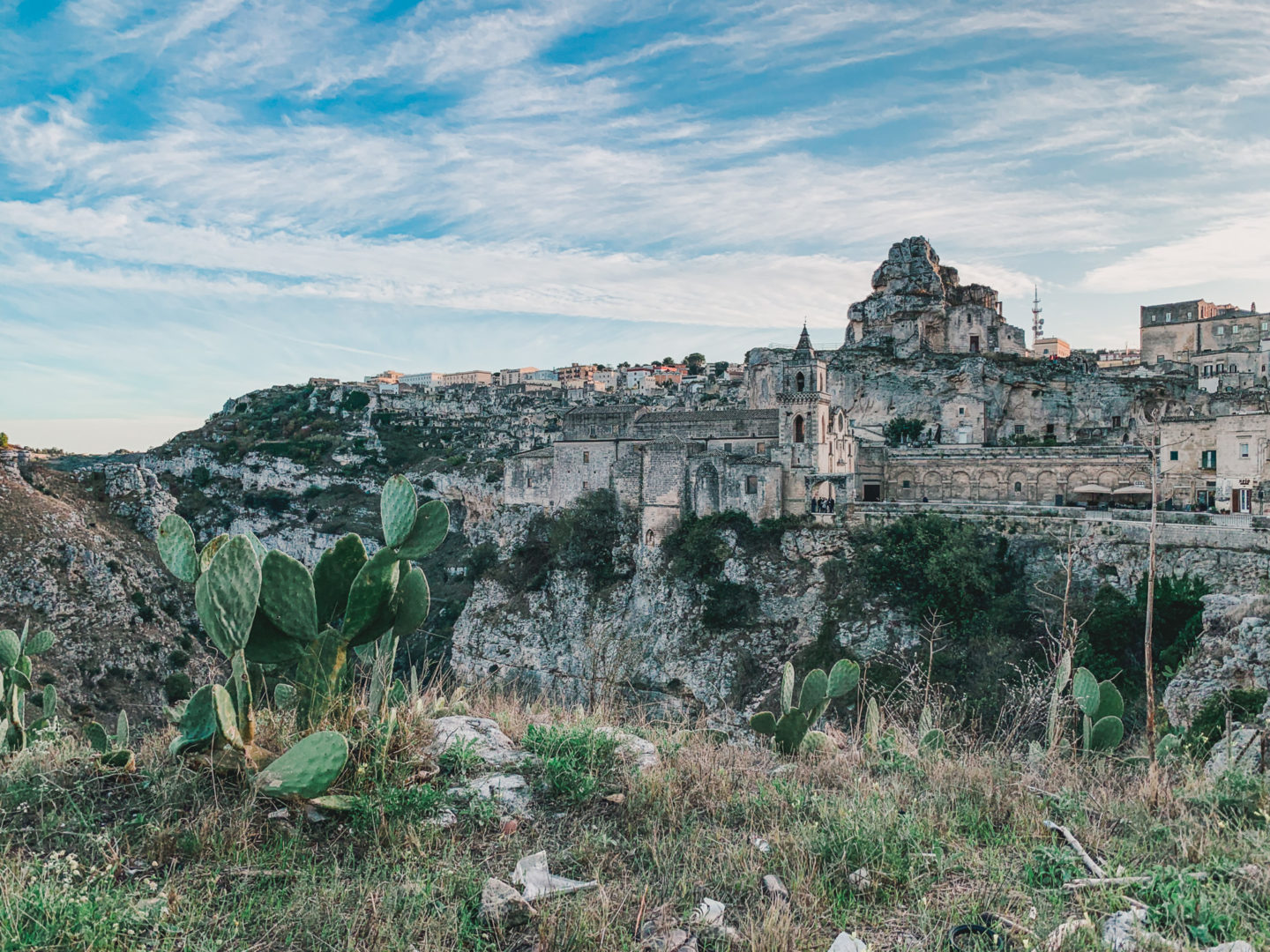 Matera is a unique place, and even more cinematic with ravine cutting through two hills – the one on which the historic part of the city was built – Sassi, and the second, called Murgia, riddled with caves.
You absolutely must visit Matera while visiting Puglia. Although the city is located in the Basilicata region, you can easily add it to your sightseeing plan, because access from Bari will take only about an hour.
Why was Matera a city unknown to most Italians for a long time? There was poverty in the caves and the inhabitants were suffering from malaria. Both people and animals lived in one space. Only after the truth was made public by the writer Carlo Levi, the city became a shame for Italy, and in the 1950s the government passed a law forcing all residents to relocate to modern buildings that today form the "new Matera".
Today, these underground residences are once again inhabited by Italians, and staying in an apartment located in one of the caves of Sassi has become one of the most exotic experiences in Europe. "Old Matera" has undergone an amazing transformation and historical part of the city was inscribed on the UNESCO World Heritage List in 1993, and was awarded the title of European Capital of Culture in 2019.
It is easy to predict that shortly Matera will flourish as a top tourist destination, so we are very glad that we were able to visit it out of season and without the crowds.
What to do in Matera?
Visit viewpoints
Admire the city from the Belvedere di Piazza Giovanni Pascoli viewpoint. From this place, you can see the panorama of Sassi, the Murgia hill and the Cathedral.
Look at Sassi 'from below', as well as the Gravina and the Murgia Hill from under the Church of St. Peter and Paul.
And of course on Sassi from the perspective of the Murgia hill. Belvedere di Murgia Timone is a viewpoint on the other side of the ravine, from which there is a magical view both at sunset and at dusk when the lights begin to again light up the city.
Take a walk around Sassi
Sassi, from Italian – stones, is divided into the older and dominated by caves Sasso Caveoso and the newer Sasso Barisano and there is no better way to discover it than walking among the stone streets.
While Sassi Barisano has undergone dramatic changes, with old caves beautifully renovated to create stunning artistic spaces, hotels and traditional restaurants, in Sassi Caveoso you can see the real-life that once went on here. For security reasons, some of the caves have recently been inaccessible, but you can easily look into others, mostly untouched.
It is also worth taking advantage of guided tours to learn even more about the history of this unique place.
Visit the Cathedral
If you started the walk around Matera from Belvedere di Piazza Giovanni Pascoli, you probably went down towards the ravine. Climbing back up through the newer Sasso Barisano, you reach the Cathedral rising above all other buildings.
You will appreciate this place even if you are not fascinated by churches because of a fantastic view of Sassi Barisano. This point is also great to admire during the golden hour.
Go trekking through the ravine
Trekking along the ravine will be a great rest from traditional sightseeing, as well as stuffing yourself with Italian delicacies. You can spend a few hours or all day, it's up to you! Take the stairs by the car park next to the Monastery of Santa Lucia and take any of the paths up. Be sure to stock up on water, as well as caps and hats to protect against the strong sun.
Visit Cassa Grotta
Arriving in Matera, it is also worth going to Cassa Grotta, a typical cave house, and see what the settlers' life once looked like. There are several such caves in Sassi, e.g. this one.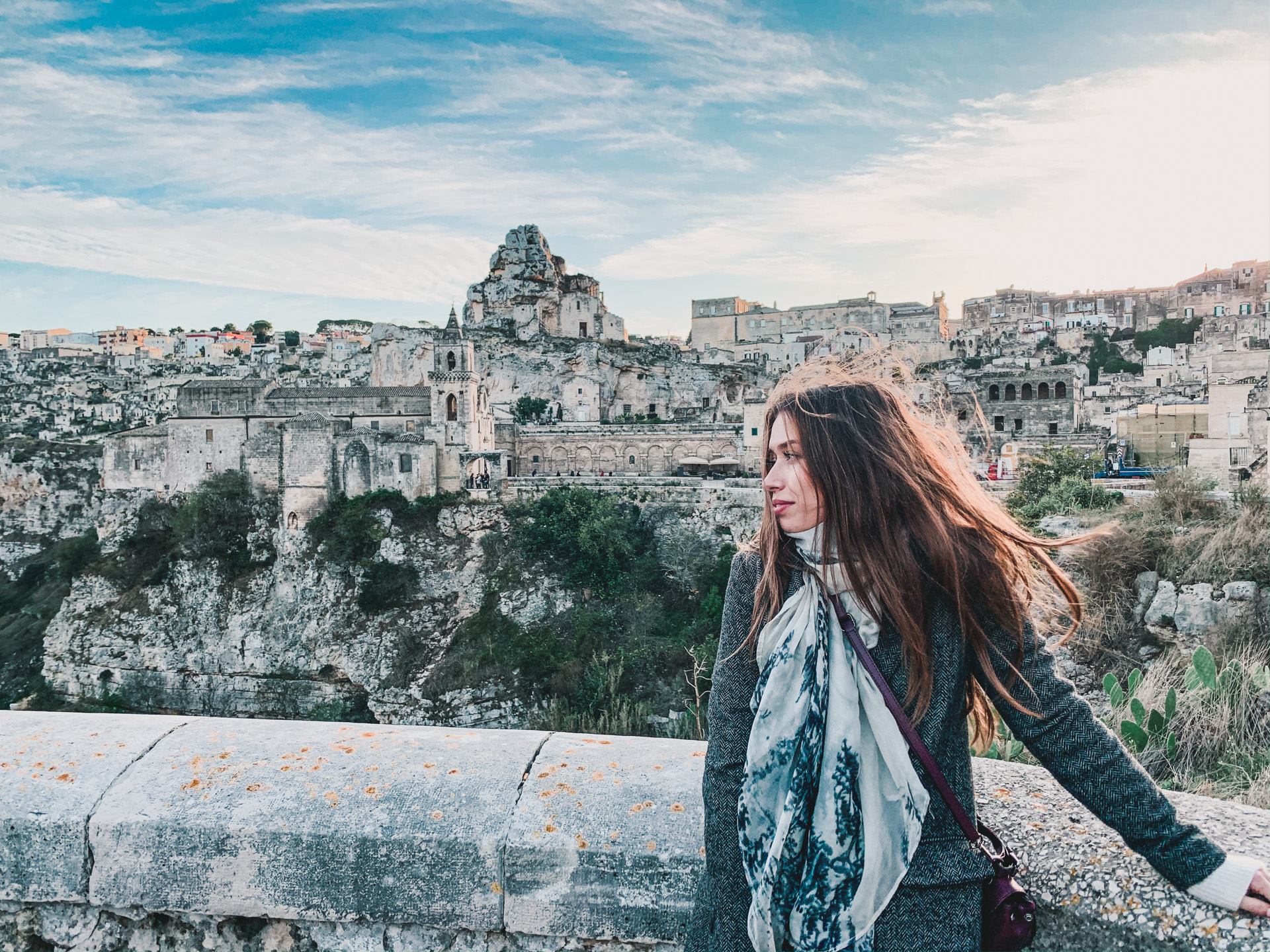 Where to sleep in Matera?
We recommend stopping in a cave for a real experience. You can opt for a more exclusive stay, e.g. at the hotel l'Hotel in Pietra or stay in an apartment with a kitchen.
How to get to Matera?
It is best to travel by car around Puglia and nearby regions. It will allow you to visit even the smallest towns.
You can also get to Matera by train from Bari. The journey takes 1.5 hours and costs 5 EUR.
Experience with us!
Brought to you by: Julia & Przemyslaw