If you decided to explore Apulia, you have undoubtedly already spent time in Bari, Alberobello, Locorotondo, or e.g. Polignano a Mare. Driving further south through the beautiful Valle d'Itria, Ostuni rises above the sea of olive trees. This picturesque city is called the White Pearl of Puglia.
Built on the hill, Ostuni is a maze of narrow, white streets decorated with flowers and cactuses. Green contrasts with the white and the whole picture is complemented by an intensely blue sky.
It is noisy and lively during the season but during our autumn trip, we felt a bit like in an abandoned city. Climbing up the labyrinth of streets we did not meet anyone (except the cheerful bunch of cats), up to the famous Instagram door.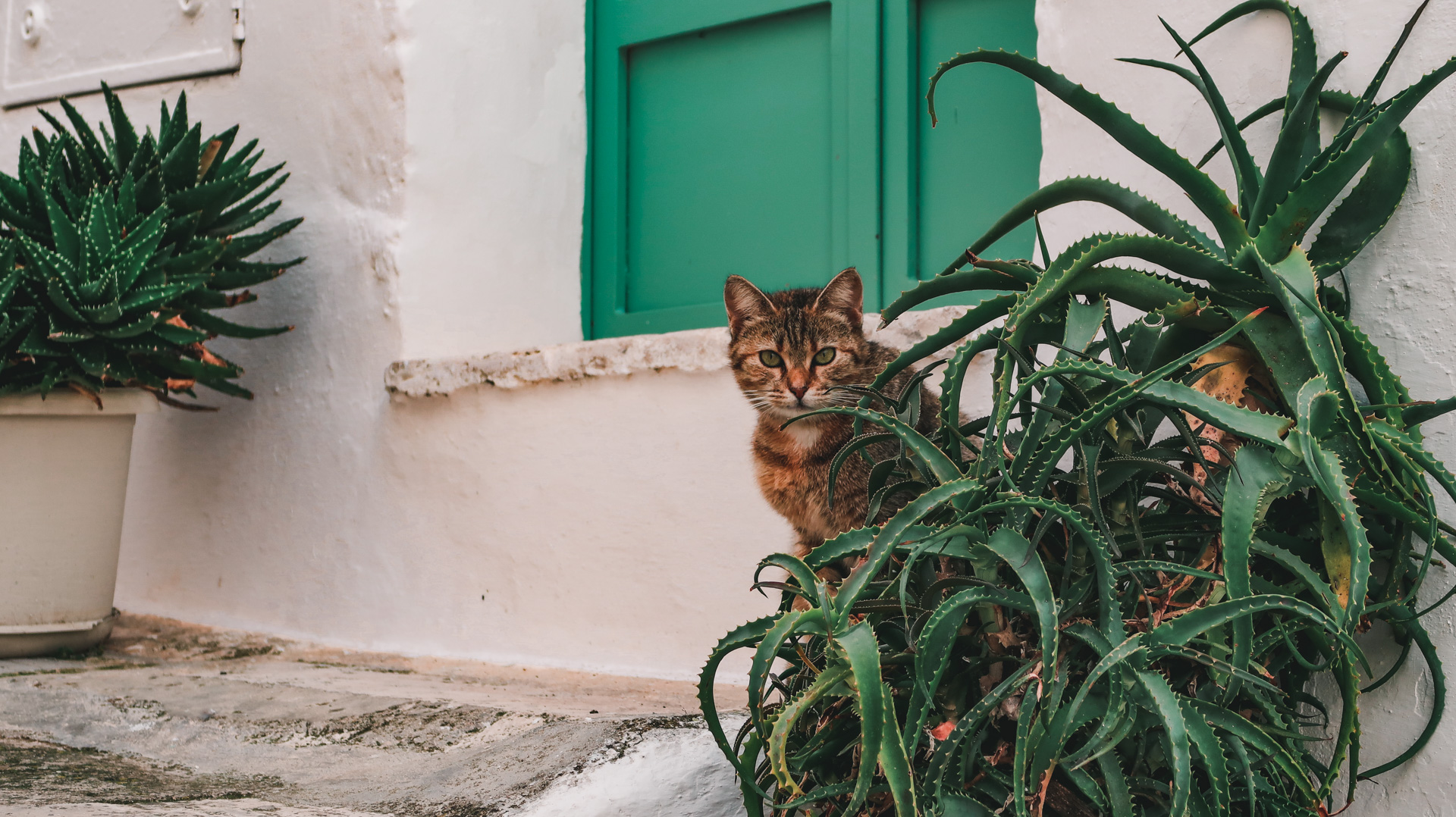 What to do in Ostuni?
As in most Puglian towns, it is best to get lost for a while in the maze of white streets. Every corner is charming and inspirational. It is a sin not to capture on the pictures of the white walls of houses and lush green cactuses or succulents.
At the top of the hill on which Ostuni is located, there is the impressive Gothic Cathedral from the 15th century – Santa Maria Assunta. It is decorated with a beautiful rosette and colourful dome. But remember to admire it not only from the outside but also to go inside – there it is even more spectacular!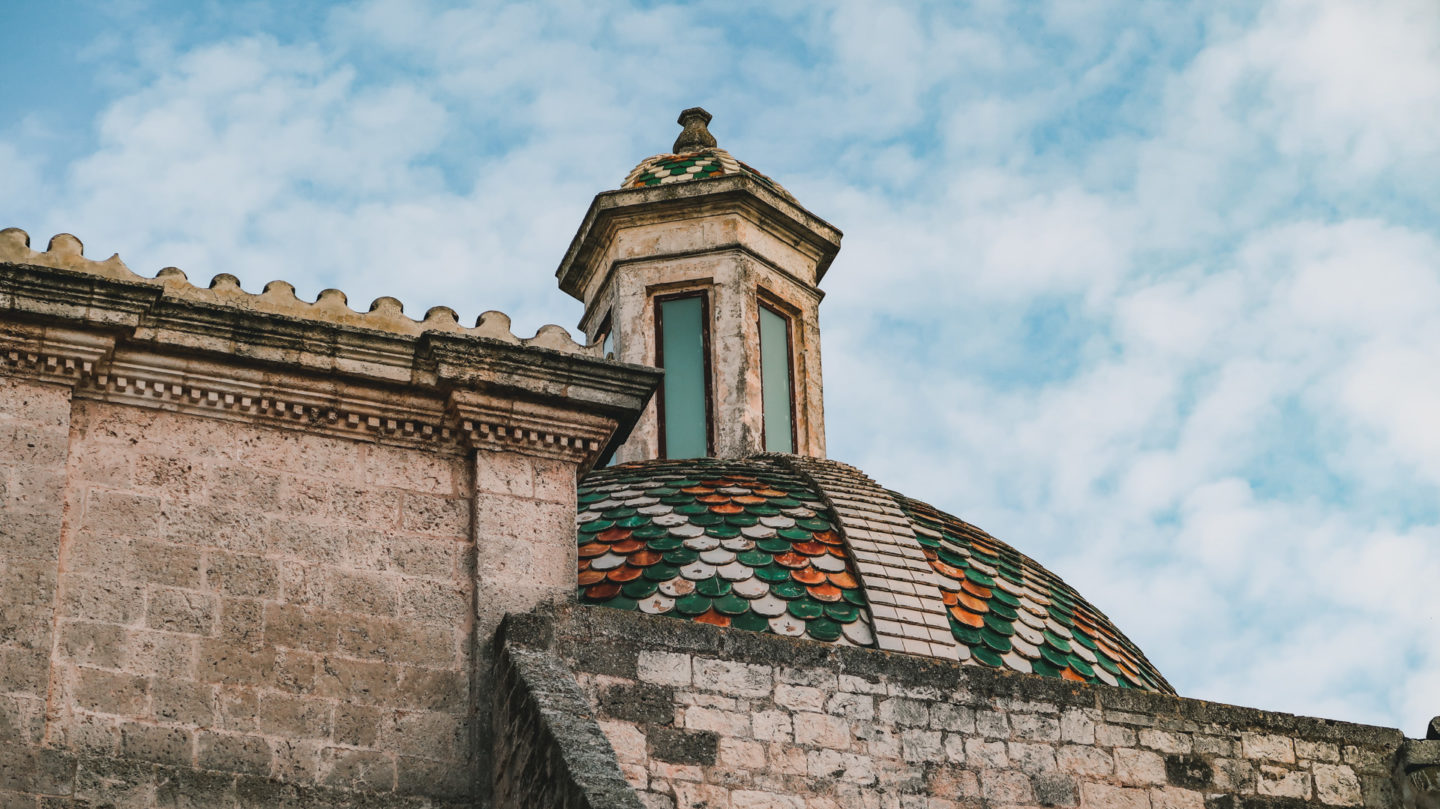 Take a picture under the Arco Scopp Arch
Rest on the main square in Ostuni – Piazza della Liberta. You can sit down for ice cream or coffee, or choose a full meal because there is no lack of cafes and restaurants here. The largest building is the Palazzo Municipale, which is the town hall located in a former monastery. On the other side of the square, there is a sculpted Column of St. Oronzo – patron of Ostuni.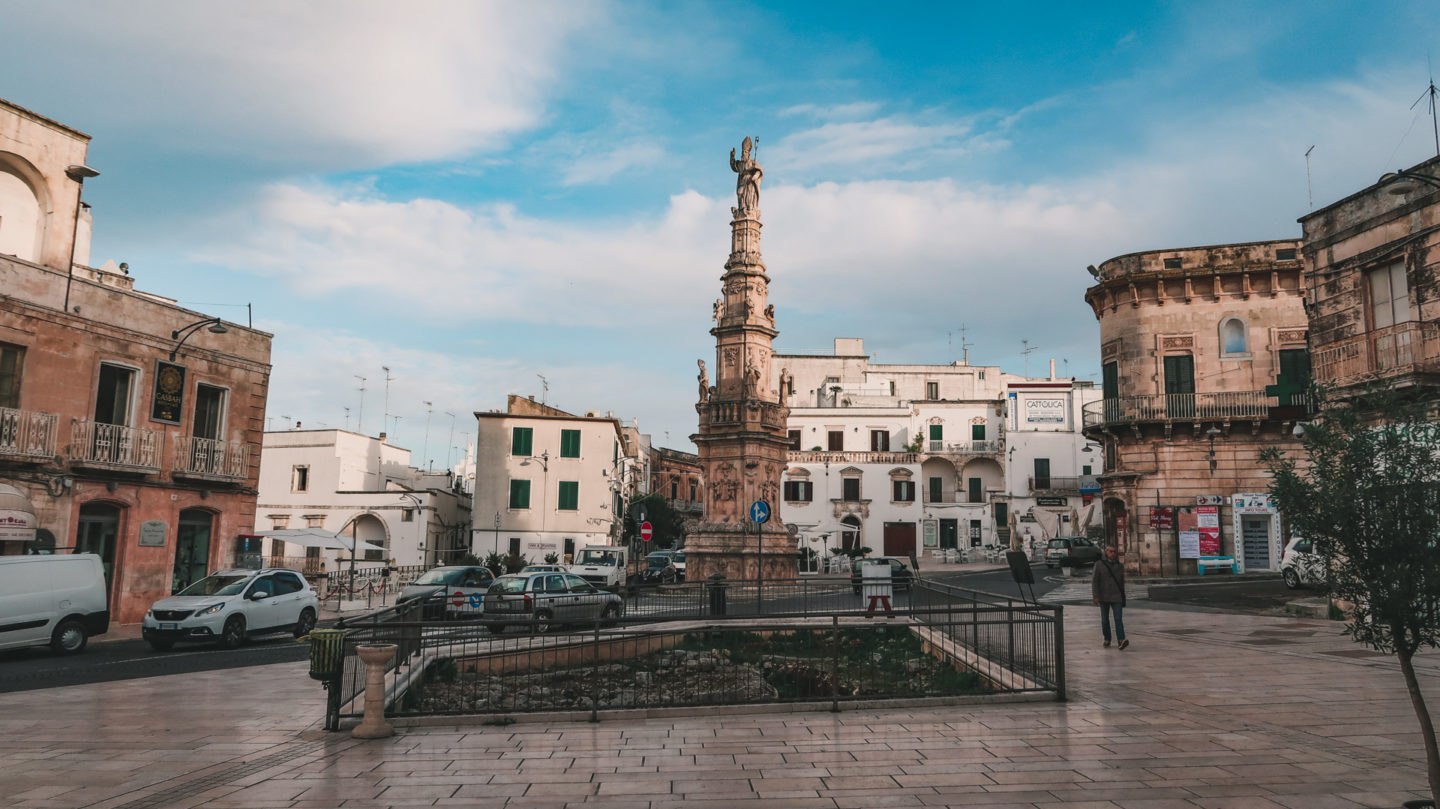 Take a guided walking tour. You will learn some history, see the most important attractions and wonderful landscapes.
Look for the door that conquered Instagram. If you are serious about social media and Instagram is your addiction, you must find the door in shades of blue and green, which appearance is complemented by cacti planted in pots. Door with the whimsical name of Porta del Paradiso is not difficult to find. After leaving the cathedral, just go under the Arco Scopp Arch and turn right. You will find a photogenic door at the end of the street. If you still have difficulty finding it, click here – we left you a pin on the map 🙂
Take a course on the preparation of gnocchi and orecchiette pasta, characteristic for Puglia.
Go to the beach. With all the amazing things to do, it's easy to forget that Ostuni is a very close to some of the most beautiful beaches in Puglia, all along the suitable named "Marina de Ostuni". Be sure to check out Lido Morelli, Quarto di Monte and Torre Pozzella.
Escape the crowds of tourists and visit the Saturday market with everything from fruit and vegetables to local crafts. The market takes place between 8:00 and 13:00 near Via Gabbriele D'Annunzio, southwest of the centre of Ostuni.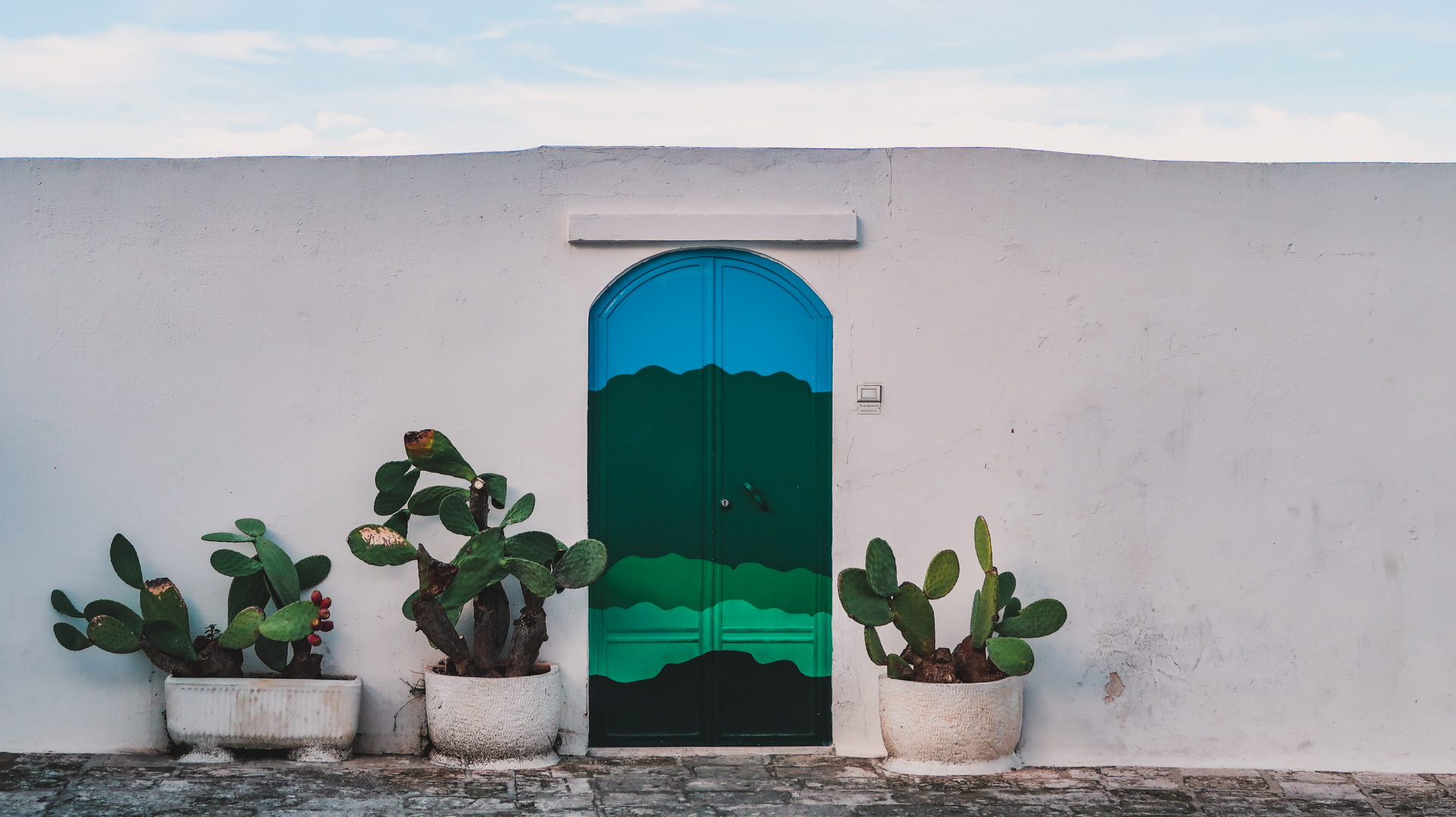 Where to sleep in Ostuni?
In our opinion, it is always a good idea to check offers on Booking.com or Airbnb. There you will find such a budget apartment in the old town, or such a beautiful apartment with a view terrace looking at the cathedral.
How to get to Ostuni?
Access by car from Bari will take about an hour, from Alberobello about 45 minutes, from Locorotondo about 35 minutes, and from Polignano a Mare about 40 minutes. When deciding to travel by car, remember about the parking rules. Selected parking zones in Italy:
Yellow lines
Yellow lines indicate free parking spaces for disabled people, vans or are reserved only for residents.
Blue lines
Paid parking spaces (parcheggio a pagamento). You have to pay for a place in a parking meter, it is best to have coins with you because in Italy many parking meters do not support payment by cards.
White lines
Free parking spaces (parcheggio gratuito). However, you should always check the signs and make sure they are not places, e.g. for residents only.
Pink lines
Free parking spaces for pregnant women or mothers with young children.
You can also reach Ostuni by train. The trip from Bari will take about 50 minutes and the ticket costs EUR 5.60. The station is located a few kilometres from the city centre, so it is best to take a city bus (the stop is in front of the station building). You can buy a ticket at a station kiosk for EUR 0.90. The bus takes about 15 minutes and your stop will be in the heart of the city, in Piazza della Libertà. You can also choose to walk, but remember that the road is uphill, winding and there is no pavement.
Experience with us!
Brought to you by: Julia & Przemyslaw