This is the post No. 3 from our
Guide to Valencia
:
#3 Cuisine & restaurants | Valencia
As we wrote in the previous post from the Valencia series, in Spain life spins around food. Time for a meal is a holy time.
For breakfast, Spaniards usually drink coffee and chew on a croissant or toast with cheese or jam. Between 10 and 12 hours is time for something more concrete. They most often choose bocadillos – sandwiches with different fillings (most often, however, it is Serrano ham or Spanish cheese). On the table, there may also appear hot or cold snacks – tapas. The next meal is lunch between 1.30 pm and 4.30 pm. After that comes the siesta, during which you will not be able to eat anything. Between 6 pm and 9 pm, there is time for some more tapas and beer, and from 10 pm everyone there is a time for a rather hearty dinner. Spaniards very much appreciate the time spent with family at meals and it is often done outside the home. Eating out is relatively cheaper than in Poland, so as often as they can, they enjoy this convenient solution. This literally results in a sea of possibilities when it comes to restaurants, cafes and bars.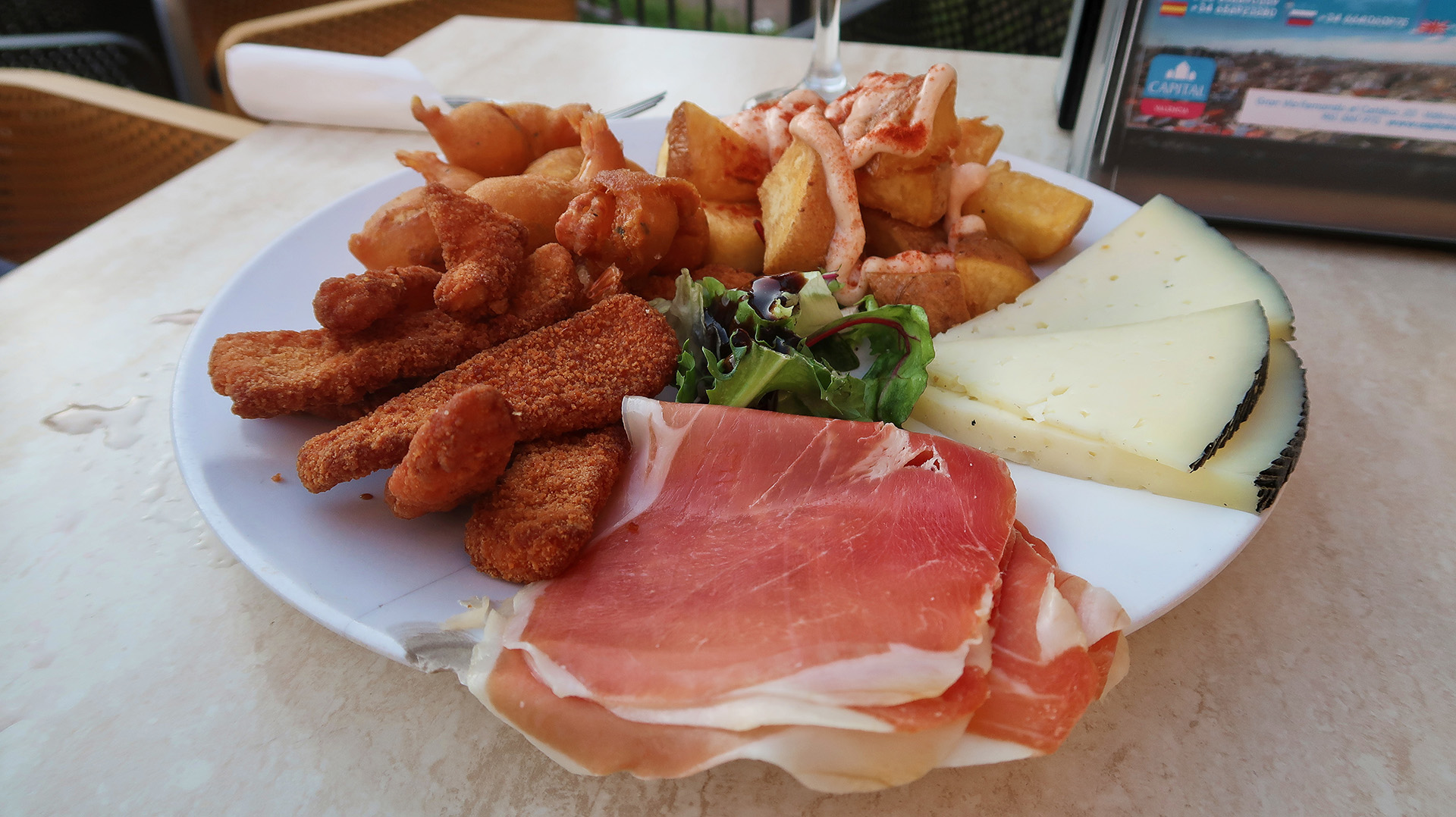 So where to eat in Valencia? Which place to choose to try the authentic Valencian paella? What dishes are worth trying?
In today's post, we will try to introduce you to Spanish cuisine and recommend cool places, where you will try real Valencian, tasty dishes!
Spanish cuisine?
There is no doubt here, it is simply delicious. Aromatic, filling, often homemade. Spanish tapas are known around the world. A few of the more characteristic ones are olives (in various colours), cheese and ham boards or patatas bravas (baked potatoes served with garlic or spicy sauce).
The characteristic Valencian dishes are for example paella, arroz a la banda and arroz al homo – all based on rice. Fideua, is another dish known in Valencia, which looks very similar to paella. Do not be fooled, however, its base is a short pasta 'pretending' to be rice. As in the case of paella, it often comes with seafood. And these are the gifts of the sea in which Valencia is well stocked and that should be on your list of things to try. Shrimps, mussels, fish and, of course, squid taste different that imported. The latter, for example, is served in a variety of forms, they are added to rice dishes, pasta, grilled or fried. Brilliant! Some interesting fact, we were highly recommended to try Valencian tomato, which is actually delicious.
Where to eat in Valencia?
Dulce de leche
Dulce de leche It's the perfect place for an I or II breakfast. Eat here various bocadillos, tarts, quiches, cakes, pastries as well as a cup of delicious coffee and fresh juices. Keep in mind, however, that this is a very popular place and it may happen that you will have to wait for a table.
€ Sample prices:
• pizzetta – 2,70 EUR
• a piece of cake – 3,50 EUR
• sandwich – 3,50 EUR
• coffee with milk – 1,30 EUR
• fresh juice – 2 EUR
Puerta del mar
Puerta del mar A very good restaurant visited mainly by locals. Try here all Spanish dishes from tapas, paella and other rice dishes, salads, seafood (squid, mussels, shrimp and oysters) and meat. They have a large selection of fish and a dessert table with several options. We tried paella with seafood, which turned out to be huge. Though it was delicious, we could not finish it.
€ Sample prices:
• tapas – od 2,30 EUR do 11,50 EUR
• salad with Valencian tomatoes and onions – 8,50 EUR
• Valencian oysters – 3,5 EUR/sztuka • XL shrimps – 18 EUR/100 gram
• tuna fillet – 19,50 EUR
• paella with seafood – 19 EUR / per person (minimum for two people)
• Valencian paella – 14,90 EUR / per person (minimum for two people)
Bon Gust
Bon Gust Restaurant located near the Plaza de la Reina in a climatic area. While strolling through the narrow streets, you will definitely come across street performances. You can sit outside in a small garden or in the middle of the restaurant. What will you eat? Patatas bravas, Andalusian calamari, prawns with kimchi mayonnaise and other tapas, tartare (meat, tuna or salmon), as well as ceviche, grilled squid, pasta (various types), steak and others. We decided on patatas bravas (great), Andalusian squid (soft and fresh) and pasta with shrimp and zucchini (tasty, and a huge portion!). €
Sample prices:
• patatas bravas – 5 EUR
• pasta with shrimps, zucchini and cherry tomatoes – 14 EUR
• hamburger – 12 EUR
• Andalusian squid – 9 EUR
• tuna tartare – 11 EUR
• chocolate mousse – 5 EUR
Casa dolce casa
Casa dolce casa Italian restaurant in Valencia? Why not! We came here quite by accident, the food turned out to be delicious, and the owners – Italians from Milan – a delight. We ate lunch, which consisted of a side dish, soup and main course. The price of such a set was 10.90 EUR / per person. For an appetizer, we chose a salad with white fish and a pork chop with mayonnaise sauce and capers, cream of cauliflower, fish on vegetables and pork with baked potatoes.
€ Sample prices:
• caprese – 7 EUR
• risotto with mushrooms – 12 EUR
• carbonara – 9 EUR • panna cotta – 5 EUR
• pork with leek, speck and vegetables – 14,5 EUR
Practical info
If you have enough time, go to Alboraya, to the traditional Horchateria, where you can try the real horchata – a Valencian drink made from the Cyperus esculentus. You also can drink this in other places in the city. It reminded us of the combination of nut milk and protein drink 😉
If you want to try the street food you should follow Love Valencia, where you can find the most valuable information about events in the city. For sure, go to Mercado Central, where in addition to food shopping, you can drink coffee and eat bocadillo (more on Mercado Central here).
Watch our vlog No. 1:
Watch our vlog No. 2:
Experience with us!
Brought to you by: Julia & Przemyslaw