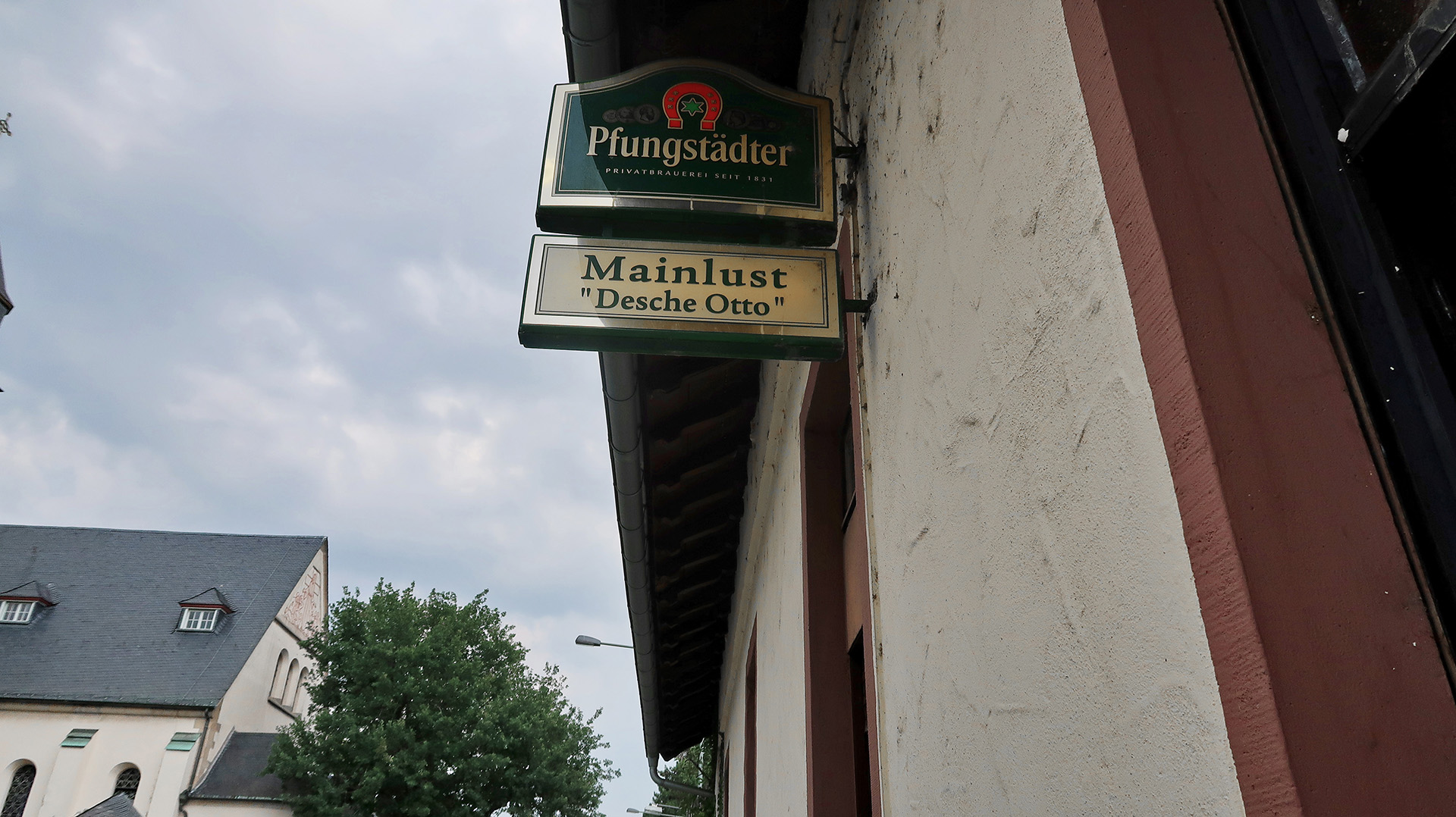 Stuttgarter Str. 21, 60329 Frankfurt am Main
069 24 24 85 05
5 – 15 EUR
German restaurant
What do I imagine when I think about German cuisine? Certainly potatoes and schnitzel! Going to Frankfurt, we asked our friends that often go there, what to do there and where to eat. Our friend recommended us Gaststätte Mainlust – a restaurant outside the centre with traditional German cuisine. To this place, if you did not hear or read about it, the tourist would not get. It is located on the lesser-known side of the River Main in a typical residential area.
We arrived there at a late lunch time and found the pub quickly thanks to the sign. However, after entering the place it was completely empty. Empty to such a degree that we began to withdraw. At that moment a bearded man came up to us and invited us to the garden, where the only occupied table was by him and his friends. He asked where we were from and when we replied that from Poland, he said that it was perfect because Olga speaks Polish. At that moment, he went to get Olga, who turned out to be Polish and at the same time his daughter-in-law.
As we later learned, the bearded man was the owner of this traditional pub. Thanks to the fact that Olga spoke in our native language, she told us everything about the dishes served, apfelwein and, most importantly, the traditions of eating and drinking. There is no chance, we would not figure out the fact that it is forbidden to eat cheese marinated in apfelwein with a fork. The only correct method is cutting it with a knife and putting it on sourdough bread. It's worth to write something more about apfelwein itself because in Gaststätte Mainlust you can drink a few kinds and it is a drink very well liked by locals. Our observations showed that it is treated more on the basis of a compote than alcohol. The taste of apple wine is specific, some types are more specific than others. Olga brought us a few to try and we could choose the one that we liked the most.
As the main course, I ordered potato puree and a famous herb sauce. Przemek, however, chose the classic – schnitzel with fried potatoes. Portions were gigantic (at least for us), and the food very tasty. Later, the locals begin to come in, and there was a pleasant atmosphere in the pub. Definitely an experience worth recommending.
Gaststätte Mainlust
Food

Service

Decor

Location
Gaststätte Mainlust
Ideal place to try out German cuisine.
Reviewed by: Julia